A magazine edited by students at Yale College is recognizing a Kalamazoo College student for demonstrating exceptional promise in China studies and furthering U.S.-China relations.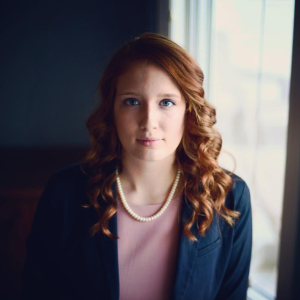 China Hands Magazine judges chose Amanda Johnson '17, an economics major and a political science and Chinese minor, for 25 Under 25: Leaders in U.S.-China Relations. As a junior at K, Johnson was one of just 171 undergraduate students nationwide to earn a Boren Scholarship to study abroad in Beijing and Harbin, China. The scholarships are named for former U.S. Sen. David L. Boren, the principal author of the legislation that created the National Security Education Program. Only four Kalamazoo College students have ever earned a Boren Scholarship.
Johnson interned in China as an event planner and writer with the Beijing International Society, where she worked alongside diplomats from around the world. The non-profit organization dedicates itself to expanding an international understanding of Chinese politics, economics and culture.
In other activities at K, Johnson has served as a secretary of finance for K's Student Commission, a consultant for the student Writing Center, and a teaching assistant for the Economics Department. She plans to pursue a career in international economic policy with a focus on U.S.-China economic relations after graduation.
In establishing the "25 Under 25" honor in 2013, China Hands Magazine wrote, "We aim to highlight students and young working professionals who have worked to further mutual understanding between these two countries. As they continue building bridges between the two countries – whether in government, business or the social sector – we hope their stories will inspire others from our generation to do the same."
Judges this year included Robert Daly, director of the Kissinger Institute on China and the United States; Graham Webster, a senior fellow at The China Center at Yale Law School; and George Chen, an award-winning journalist and 2014 Yale World Fellow.