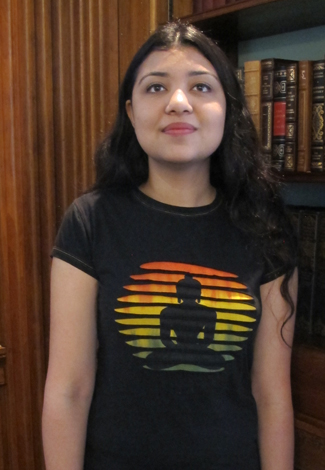 Mansi Dahal '20 has a vision so impressive that the Michigan Colleges Alliance (MCA) has awarded her one of its Independent Innovators Network Scholarships. The scholarships recognize entrepreneurial concepts submitted by students from the 15 MCA schools. Mansi will receive a $5,000 scholarship in spring. The overall top entrepreneurial concept will be selected by MCA in the coming weeks.
Her goal after graduation in 2020 is to open a small clothing manufacturing business that employs women who have been physically, verbally and sexually abused. She envisions an operation–small at first–that incorporates design, production, marketing and advertising and sales. She plans to begin her business in Nepal, the home from which she matriculated to Kalamazoo College.
In addition to training and employment, her operation would provide housing and food for those employees who need it. The growth of her business will help ameliorate an important social issue. "Women who have undergone such trauma are often left jobless and without support," wrote Mansi. With training, new skills and employment opportunities the women can regain power in their lives. Improvement in the lives of women has been a cause important to Mansi since her adolescence. At that time her first careers yearnings leaned toward medicine. And undergraduate study in the United States was not part of her plan. "Nothing happens according to my plans," she says, "and I've been delighted by that." When she first arrived at K, she was considering a major in economics. However, her first-year creative writing class has her thinking about a possible major in English.
She has a year before declaring a major (which happens in the sophomore winter term), plenty of time and opportunity to exercise her liberal arts spirit. Whatever her major ends up being, it will apply to the business idea she's determined to bring to fruition–a business she hopes to expand to countries outside of Nepal. And the profits from that business Mansi plans to invest in its growth and to donate to organizations that promote sustainable hygiene and health for girls worldwide.