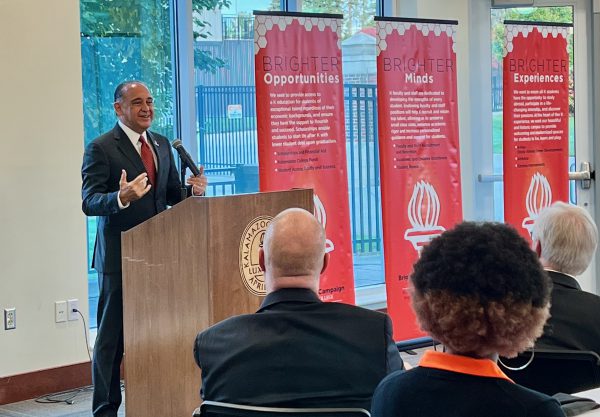 Kalamazoo College President Jorge G. Gonzalez reflected on the state of the College and shared a bit about its future vision at K's annual Community Breakfast on October 6. In attendance were local and state officials, business and community leaders and area educators representing more than 40 organizations and institutions.
After an introduction from Kalamazoo College Board of Trustees member Don Parfet, Gonzalez spoke about the College's diverse enrollment, updates to the Campus Master Plan and the many partnerships that exist between the College's various centers and local community organizations, schools, city government and businesses.
After Gonzalez's remarks, senior biology major Nate Zona spoke about his experiences at K, focusing on the vibrancy of the K-Plan and how Kalamazoo College encourages students to experience life outside of campus through experiential education. Zona studied abroad in Quito, Ecuador, and has held research internships at the Division of Interventional Radiology and the Pediatric Center of Excellence in Nephrology at the Children's Hospital of Philadelphia. Recently, he held his first clinical job with Kalamazoo-based Progressive Alternatives, which provides rehabilitative care for adults with physical, cognitive and/or behavioral disabilities.
In his remarks, Gonzalez said that Kalamazoo College continues to bring in exceptional classes of students from around the U.S. and the world. This year, the College welcomed 372 first-year students from 22 states and seven countries. Of these, he noted, 33 percent are domestic students of color, 28 percent are from families of modest means (Pell Grant eligible) and 22 percent are the first in their families to attend college. The new class also includes 30 Kalamazoo Promise students from the Kalamazoo Public Schools, as well as eight recipients of the Heyl Scholarship, which provides full-tuition scholarships for Kalamazoo area students who will be majoring in STEM fields.
Gonzalez noted that while K's six-year graduation rate for Pell-eligible students is laudable—nearly 80 percent compared to a national median of 44 percent—the College is focused on inclusion and supporting the diverse needs of students, particularly those who are first-generation college students, and providing students access to all the experiential opportunities that K offers.
He then touched on future changes to the landscape of the College, including the long-term development of new and renewed residential housing and "changes to build better bridges between the campus and the city."
A critical component of the student experience at K is the partnership between the College and local organizations. Gonzalez cited the work of the Mary Jane Underwood Stryker Center for Civic Engagement, the Larry J. Bell '80 Center for Environmental Stewardship, the Arcus Center for Social Justice Leadership and the Center for Career and Professional Development—all of which provide student-led programming, service-learning opportunities and connections to employment in the Kalamazoo area. The Center for Civic Engagement alone has partnerships with more than 45 local organizations.
These opportunities would not be possible, Gonzalez said, without gifts and grants from corporate donors and community foundations, which support programming and provide stipends and funding for students with financial need.
Such gifts have also boosted The Brighter Light Campaign, which the College launched publicly in 2021. The campaign has raised $133 million against its minimum $150 million goal, more than half of which is designated for K's endowment, which will sustain the College in perpetuity.
"As we look to the future, we envision K being well-known for excelling at supporting all students through a rich liberal arts experience," Gonzalez said, thanking attendees for being a part of this vision. K, he emphasized, wants to be a place where every student is supported equitably and provided access to the tools and resources to succeed—not only accepting the best students, but graduating the best—and where the best are more representative of the world.