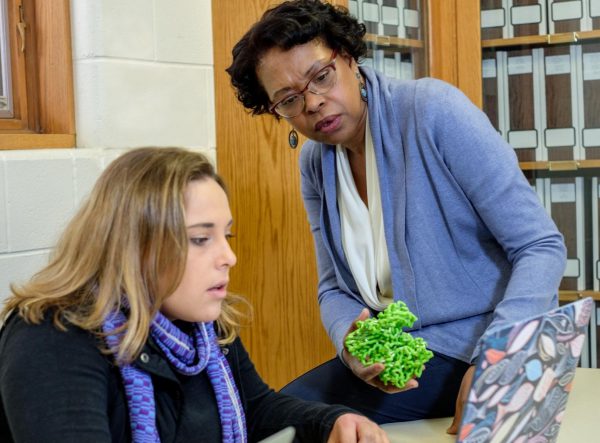 Prospective students interested in science-based careers will have another reason to choose Kalamazoo College this fall. That's when the Chemistry Department will offer both a chemistry and a biochemistry major. The new biochemistry major will expand the information addressed through the interdepartmental concentration currently offered at the College.
Biochemists commonly work in private industries, pharmaceutical and government labs, and higher education to increase the world's understanding of the biological processes fundamental to life. At an undergraduate level, this field of study provides a foundation for graduate-level studies and careers in the health sciences such as medicine, veterinary medicine, dentistry, pharmacy, pharmacology and toxicology. This new major will open up these opportunities for our students as they prepare for careers beyond K.
Whatever the career path a science student follows, Professor of Chemistry and Biochemistry Regina Stevens-Truss said, "It's our job to help them figure out what's next for them after K, and a biochemistry major will help in that effort.
"Some students come to us thinking they know exactly what they want to do, but then they get here and discover biochemistry is fascinating," Stevens-Truss said. "Those are the students I'm excited for most because this new major will offer us an opportunity to open up biochemistry for them. I'm excited for our students and I'm excited for our program."
This major will require the core courses in chemistry (general, organic, analytical and physical chemistry), as well as the chemistry senior seminar course, Professional Development for Chemists. In addition, biochemistry majors will take interdisciplinary courses in biology, mathematics and physics, and either Cell and Molecular Biology or Biophysics, depending on their long-term goals and plans. The biggest benefit will come from the program adding three new biochemistry major-required courses to the chemistry department's curriculum: a 300-level foundations of biochemistry course, a 400-level applications of metabolism course and a comprehensive research-style lab practicum.
"Up until now, chemistry majors interested in this field had been at a disadvantage in this area," Stevens-Truss stated. "The biochemistry course currently required for the concentration (Chem 352) is a survey of biochemistry topics—there is just not enough time to immerse oneself into the subject. Important topics such as photosynthesis, cellular signaling and genetics, and gene cloning aren't currently addressed in that course. We hope that students are exposed to those topics by taking the required biology courses needed for the current concentration."
However, in going from K to a graduate or post-baccalaureate program or to a job, "students need to be able to think critically about the application of these topics to real-world issues, which the new major is poised to help them do" Stevens-Truss said.
Prospective students and families are encouraged to discuss their interests in the biochemistry major and the benefits of it further when they talk to Admission representatives and chemistry and biochemistry department faculty to get additional information and for seeking more opportunities.
"Everybody has probably heard that 'chemistry is everywhere', but we don't always see it," Stevens-Truss said. "This biochemistry major will give students opportunities to see it in everyday life. That's the excitement. This is giving us opportunities to offer students coming to K a chance to say, 'This stuff is really cool,' because life is cool."