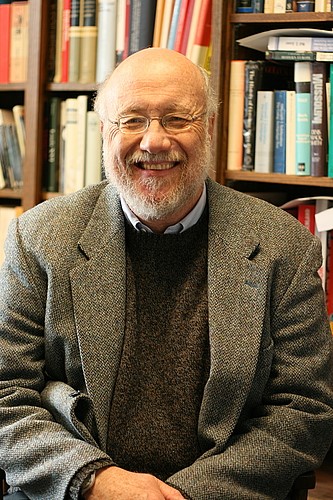 Alumni, current and retired faculty and staff, and friends of the College have established the David E. Barclay Endowed Scholarship in History to honor Professor Barclay and his 43 years at the College. Professors Emeriti David Strauss and John Wickstrom were the driving forces behind the fundraising initiative to create this scholarship.
"News of the new scholarship has humbled me more than I can possibly express," said Barclay, who retired from K as the Margaret and Roger Scholten Professor of International Studies. "I owe an incalculable debt of gratitude to so many of you who have contributed to it, and especially to my dear friends and colleagues, David Strauss and John Wickstrom. "They — along with the late Edward Moritz — played central roles in developing K's history curriculum, and were a daily inspiration to me as teachers, scholars, and human beings."
Strauss and Wickstrom described the purpose of the scholarship as supporting K students who demonstrate exemplary capacity for and commitment to scholarly work in the history department. Their motivation for creating the Barclay Endowed Scholarship was to both signal K's tradition of excellence in history by undergraduates—past, present and future—and also honor Barclay's extraordinary career in an appropriate fashion.
Barclay devoted his professional life to teaching, researching, and writing on European history. As a scholar, he achieved national and international distinction for his work in modern German history. He shared his achievements in those fields with several generations of students while working tirelessly to expand the influence of the discipline of History at K.
Collaborating with colleagues at the College, Barclay wrote a successful proposal for the Center for Western European Studies, a Title VI Undergraduate Resource Center funded by the U.S. Department of Education. The award establishing the program was the only one made to a liberal arts college and was competitively renewed every three years for 15 years. Barclay also joined students on study abroad and served as a mentor, adviser and friend to countless alumni.
Barclay received the Weimer K. Hicks Award in 2018, which honors a current or retired K employee who has provided long-term support to College programs or activities beyond the call of duty.
To celebrate the establishment of this endowed scholarship in his name, Professor Barclay will be giving a virtual K-Talk on Tuesday, April 20, at 5 p.m. The K-Talk, "Germany's American Outpost," will explore the relationship between Berlin and the United States during the Cold War.
If you would like to support K history students and give in honor of Professor Barclay, please make a gift online to the David E. Barclay Endowed Scholarship in History or contact Andy Miller, Executive Director of Development, at 269.337.7327 or Andy.Miller@kzoo.edu.