Kalamazoo College is among 20 colleges and universities nationwide to be named a Best Buy School in the just-published 2019 edition of the highly respected Fiske Guide to Colleges.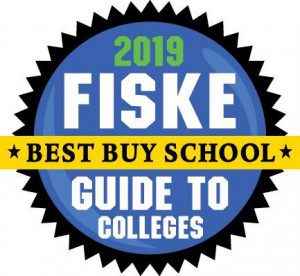 Fiske says it based the ratings on "outstanding educational value as determined by academic quality in relation to the net cost of attendance." The guide says of Kalamazoo College: "Ninety-eight percent of students at this globally oriented liberal arts school receive financial aid and 70 percent study abroad for the same price that they pay for regular tuition."
Eric Staab, K's dean of admission and financial aid, says Fiske's recognition comes as no surprise.
"At Kalamazoo College, the flexibility of the K-Plan, our integrated approach to an excellent education in the liberal arts and science, allows us to seek out students with a broad array of interests, achievements and experiences," Staab says. "We work hard to ensure that cost is not a barrier for students who can contribute their distinctive ideas and talents to, and benefit from, our richly diverse campus and programs."
Chartered in 1833, Kalamazoo College is among the nation's 100 oldest colleges and universities. It ranks in the top 2 percent among the nation's four-year liberal arts colleges for the percentage of graduates who go on to earn doctorate degrees.
K is the only college in the Great Lakes region named to the Best Buy Schools list, which is comprised of 10 public and 10 private universities and colleges.
Established by former New York Times education editor Edward B. Fiske, the Fiske Guide to Colleges has been among the foremost sources of information about higher education quality and affordability for more than 30 years. USA Today has deemed it "the best college guide you can buy."
For more information about Kalamazoo College, visit www.kzoo.edu.