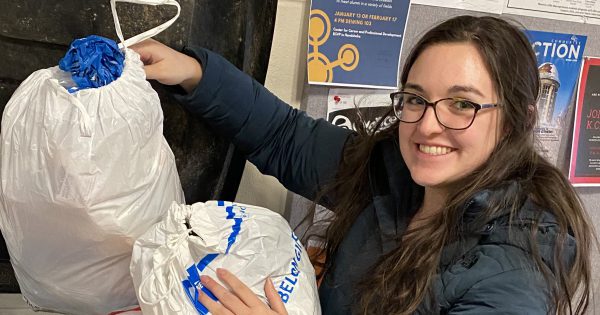 The Kalamazoo College Council of Student Representatives (KCCSR) and the Eco Club are offering a creative way for you to deal with your plastic waste—including that supply of plastic bags that seems to grow every time you shop.
From now until July, the organizations are collecting clean, dry and residue-free produce bags, closeable food-storage bags, cereal bags and more in receptacles around campus through their self-titled Bags to Benches program.
With the Bags to Benches program, a volunteer will weigh the plastic collected each month at the Hicks Student Center, Upjohn Library Commons, Dewing Hall, Dow Science Center, Anderson Athletic Center and the Arcus Center for Social Justice Leadership collection sites. If the Trex Recycling Co. in Winchester, Virginia, then confirms that K's plastics drive has gathered 500 pounds or 40,500 pieces of plastic film, bags and plastic during the six-month drive, the College will receive a bench made of recycled plastic it can place on campus.
Council of Student Representatives President Karina Pantoja encourages the K community to think big when dropping off plastic. Don't just settle for plastic grocery bags; think about bread bags, bubble wrap, dry-cleaning bags, newspaper sleeves, plastic overwrap, closeable food-storage bags and more.
She said the Bags to Benches program began as representatives were looking for a way to unite the campus and build community around a common cause. The sustainability aspect of the project is a bonus and it shows prospective students they can come to K and seek ways of acting to benefit the greater community.
"We avoided making this a competition between student groups or departments because we think it's important for everyone to come together and work toward one goal," said Pantoja, of Paw Paw, Michigan, who majors in English with a concentration in Women, Gender and Sexuality Studies. "An effort like this can tell students that someone on campus cares about sustainability, that student contributions are valued, and that student representatives exemplify their values. It's nice to have something that sustains an optimistic and exciting energy throughout campus as all of us can come together to accomplish a goal like this."
For questions and more ideas about how you can support the Bags to Benches program, email KCCSR at StudentRepresentatives@kzoo.edu.