Theatre Kalamazoo's 10th annual New PlayFest will highlight Kalamazoo College talent thanks to playwrights Rebecca Chan '22 and Emma Fergusson '22, and Director Trevor Loduem-Jackson '21.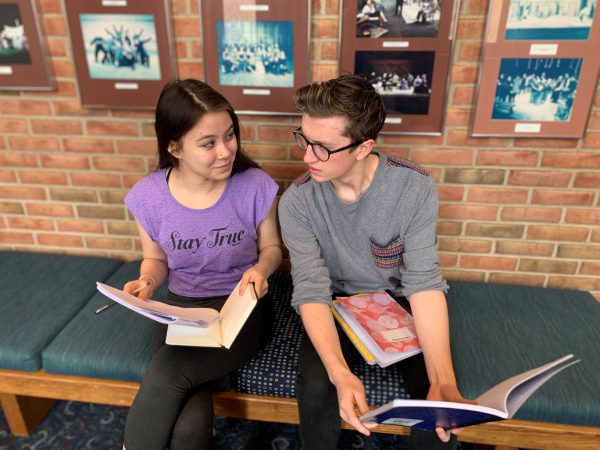 Their plays, Record, Harold and Taco, and Old Friends respectively, will premier during the event, along with five other plays written by local playwrights and performed by local actors and directors.
The festival focuses on playwrights and play writing, rather than the production of plays, making it different from most festivals. Playwrights attend all the rehearsals and watch the directors work with actors to bring their scripts to life. Playwrights are encouraged by the festival producers to continue to edit their scripts all the way through technical rehearsals. That means actors are told not to memorize their lines because the lines might change. The public presentations are staged readings, meaning scripts must stay in the actors' hands, even during the performance. The New PlayFest was established by K Professor Emeritus Ed Menta in collaboration with Steve Feffer of Western Michigan University in 2010.
Each of the plays is about 10 minutes long, and — in their own ways — examine human relationships and reconciling the past. Chan's Record, for example, is about two strangers who meet on a bench in Central Park. Ally compulsively writes in a journal and Gale desires new connections in the big city.
Through small talk and journal entries, they contemplate which of their memories are worthwhile, how much people should let their past affect their present, and whether anyone has any control over their past or their present.
"I wrote this play because reconciling the past is a struggle we all face," Chan said. "Sometimes, under the burden of regret, we forget that the shame and embarrassment in our personal histories can provide us with the motivation to change for the better. Record is not an optimistic play, but I think it provides some avenues for self-reflection, allowing audiences to think more critically about how they deal with their own memories."
Chan also had an additional motive for writing Record.
"I also wanted to provide opportunities for individuals often marginalized in theatre," she said. "Throughout the play, Ally stims, which could be interpreted as a sign of autism or anxiety, and Gale is scripted using gender-neutral pronouns. I wanted to provide actors from marginalized communities with the opportunity to play characters like them and present these characters without their marginalization defining them."
Chan added she is thrilled to have her play premier at Theatre Kalamazoo's New PlayFest after acting for the event last year.
"The ability to work with actors and a director to refine my script has been a true joy, and I've learned a lot about my own writing and progress," Chan said.
Fergusson's Harold and Taco is a play she wrote in a K play writing class led by Visiting Assistant Professor of Theatre Arts C Heaps.
"Over the course of the class, I was able to develop the play and present it in the form of a staged reading," Fergusson said. "It was also through this class that I learned about Theatre Kalamazoo's New PlayFest."
Harold and Taco are hamsters. Their existence and disappearance are the reasons why the two main characters, Michael and Nadine, must face each other and address their relationship problems.
"It's real and painful, but also very comedic in a lot of ways," Fergusson said. "Kalamazoo has such a strong, wonderful theatre community and I'm really glad to be a part of it. To have the opportunity not only to present my work to the public, but to collaborate with local artists and bring the script to life is one of the greatest experiences I could hope for as a writer."
Loduem-Jackson is directing Old Friends, written by Shelby Alexander, a Kalamazoo high school student. In the play, Natasha struggles to handle the pressures of being a modern American teenager. That leads to her humidifier, Mrs. Peanuts, coming to life and giving advice.
"It has been such a learning process and I am so grateful for the cast and the playwright for trusting the process," Loduem-Jackson said. "As the director, I am learning what it means to build meaningful relationships between the characters. It is hard to find those connections, especially in a 10-minute show. The cast has been great at finding those connections."
"Truly, there is nothing better than seeing the precious words you crafted form into a beautiful work of performing art," Alexander added.
New PlayFest begins Friday, Feb. 14, with Romance Guaranteed, a romantic comedy by Art Nemitz, at the Civic Theatre. More information is available at the theatre's website.
All plays will premier Saturday, Feb. 15, with two presentations each: Old Friends and Record at 2 p.m. and again at 7:30 p.m.; Harold and Taco at 4 p.m. Saturday and 2 p.m. on Sunday, Feb. 16. All are at the Judy K. Jolliffe Theatre inside the Epic Center in downtown Kalamazoo. All Feb. 15 and 16 New PlayFest events are free and no reservations are required. More information about New PlayFest is available at Theatre Kalamazoo's website and its Facebook page.