Two Kalamazoo College students were honored last week with new recognitions given at the Kennedy Center's American College Theatre Festival (ACTF) Region 3 in Madison, Wisconsin. The festival is a chance for college students in Illinois, Indiana, Michigan and Wisconsin to share their skills and learn from others through workshops; collaborate as actors, directors, designers, dramaturgs and playwrights; and celebrate a mutual interest in theatre and its importance in society.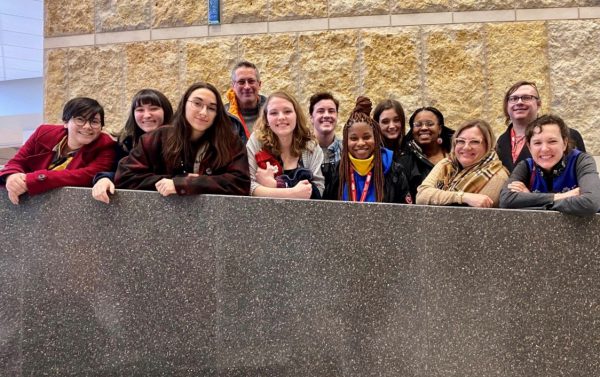 Milan Levy '23 earned the Golden Collaborator Award for her excellence in organization and collaboration through the festival's devised theatre project. Devised theatre, for the sake of the festival, involved methods of theatre-making in which a script originates from collaborative and improvisatory work by attendees.
"The process was challenging, requiring a high level of patience and compromise and I am honored to be recognized for my creativity, hard work and collaboration skills," Levy said.
Aly Homminga '20 — a co-captain of K's improv group, Monkapult — earned the Collaboration and Devised Theatre scholarship for her work in theatre festival improvisation. The program, which will take her to the California State University Summer Arts program in Fresno for two weeks, focuses on collaborative and devised theatre, helping students develop talents in acting, directing, designing and writing.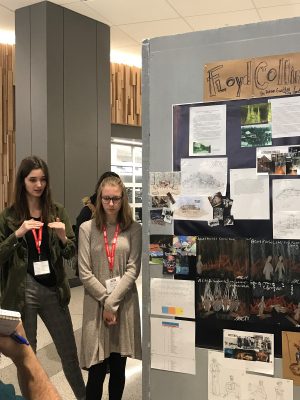 "I am excited about this scholarship because I'm going to be part of an intensive that is about creating theatre in every sense," Homminga said. "In devised theatre, all people in the ensemble get to be actor, director, playwright and designer. I will be growing and sharpening my skills in all areas. It was such an honor to be awarded this scholarship and I am thrilled to be able to immerse myself in theatre."
This recognition is significant for both students because more than 1,000 students attended the festival, including several from much larger schools such as the University of Michigan, University of Wisconsin and Ball State University.
Six other K students attended the festival with Levy and Homminga: Rebecca Chan '22, Sedona Coleman '23, Sophie Hill '20, Mars Wilson '20, Teyia Artis '21 and Angela Mammel '22. K faculty and staff who attended included Director of Theatre Arts Lanny Potts; Professor of Costume Design and Stage Makeup Lori Sands; Visiting Professor of Theatre History, Directing and Playwriting "C" Heaps; and Festival Playhouse Company Manager Laura Livingstone-McNelis '89.
Kate Kreiss '19, who works as a marketing coordinator for the Grand Theatre in Wausau, Wis., and Livingstone-McNelis, led a workshop on theatre arts administration and marketing.
"We're very proud of our program here at K, and we welcome you all to attend our next production, Silent Sky, a real story about women astronomers, during Week 8 in the Festival Playhouse," McNelis said.