Zhang Financial, one of the nation's top fee-only financial advisory firms, will help Kalamazoo College support key initiatives in its strategic plan, Advancing Kalamazoo College: A Strategic Vision for 2023. Their generous contribution will help to better position K students for their first jobs after graduation.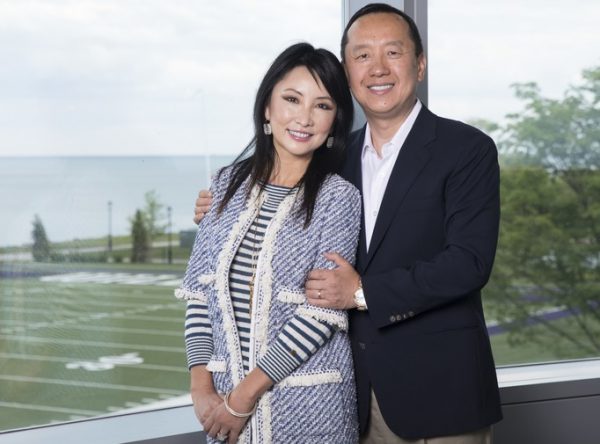 Zhang Financial, based in Portage, Michigan, is establishing the Zhang Financial Student Professional Development Fund, a permanent endowment that will underwrite campus-based programs to enhance student experiences and prioritize their professional development.
Some of those programs, coordinated through the Center for Career and Professional Development, include:
K's annual Career Summit, which offers two days of interactive breakout sessions, themed panel discussions and networking opportunities with distinguished alumni and other professionals. This annual event, traditionally held in April, provides students of all majors with priceless information about how to position themselves for success in an unpredictable global job market.
Passions to Professions, which allows small groups of interested students to connect with local and visiting professionals over a casual meal to ask career-related questions.
Confident at Commencement, a weekly lunch series that delivers relevant content, from saving and investing to taxes and salary negotiations. This event caters to seniors as they prepare for Life after K.
Sophomore Retreats, which helps students in their second year at K develop public speaking and networking skills during a weekend with alumni and community professionals.
Collectively, these and other programs reinforce K's strategic vision and its mission of preparing graduates to better understand, live successfully within, and provide enlightened leadership to a richly diverse and increasingly complex world.
"We are grateful to Zhang Financial for this contribution, which will help Kalamazoo College continue to provide students with amazing opportunities to develop their skills, experiences and future careers," Kalamazoo College President Jorge G. Gonzalez said. "We are excited and honored by their trust and confidence in our efforts to provide a broad-based education through the liberal arts and sciences."
Charles Zhang serves as managing partner and CEO, and Lynn Chen-Zhang is the COO and chief compliance officer at Zhang Financial.
"The professional landscape is dynamic—companies are constantly searching for candidates who contribute new skills, and who can adapt to an evolving workplace," they said. "We are excited for the competitive advantage that The Zhang Financial Student Professional Development Fund will offer Kalamazoo College students."