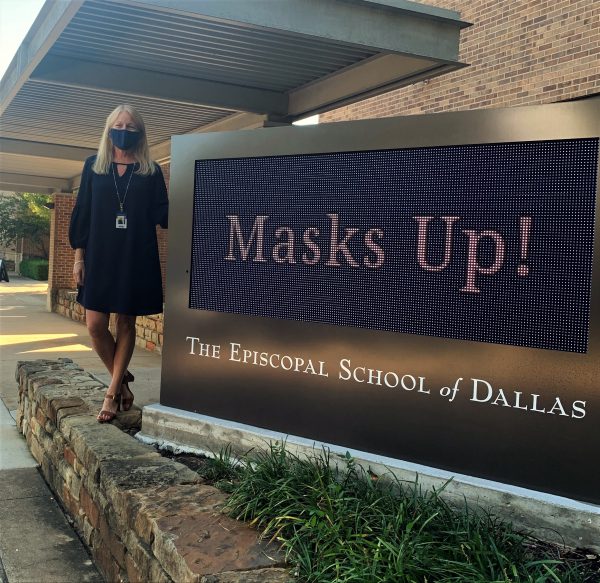 As teachers guide children in new ways through a pandemic, World Teachers' Day, celebrated each October 5, is recognizing the unique nature of this year with a theme of "Leading in Crisis, Reimagining the Future."
Conducted through the United Nations Educational, Scientific and Cultural Organization (UNESCO), the day is to honor educators such as Kalamazoo College alumna Margaret Ferris '90, a teacher at The Episcopal School of Dallas, where she helps guide high school students in the classroom and online every day in the wake of COVID-19.
"I love the connections I make with my students as they become adults, and I love sharing my passion for math with them," said Ferris, who is the school's Math Department Chair. "My hope is they will become as excited about the subject as I am."
At K, Ferris prepared for a teaching career with a study-abroad experience that involved student teaching in Mexico City while she majored in math and minored in Spanish.
"I took all the education classes at K, but more importantly, K taught me to think critically, be open minded and be accepting of everyone," she said. "The math education I got there was outstanding. Foreign study gave me a perspective of the world I wouldn't have otherwise had. And the liberal arts, having knowledge in not just one subject but every subject, has helped me in the classroom."
Since college, Ferris has taught pre-algebra to Spanish-speaking students in Houston, was Director of Education at a Sylvan Learning Center, and taught all levels of high school math at two private schools in Miami before joining the Episcopal School. This year, however, has been unlike anything she ever could've prepared for. Ferris' school started this fall with two weeks of online classes before returning to the classroom, where she has taught juniors and seniors AP Calculus and Statistics, in person and online simultaneously, for about four weeks.
"Despite the hurdles, I was so excited to see my students and colleagues again," Ferris said. "There is something special that happens in the classroom that is very difficult to replicate. Our community has really come together to keep each other safe, as well. The seniors have set a great example for the younger students. Everyone is wearing a mask, following one-way traffic patterns, and maintaining a safe distance. I have been so impressed with our entire community and the way that we are showing such great care for each other."
Still, social-distancing guidelines prevent group work, a major component of Ferris' curriculum, for in-person students.
"Normally, I would circulate around the room when they're working in groups," Ferris said. "That's a big adjustment for me. There's a lot more preparation that goes into each class period."
Ferris also has to balance the needs of two audiences at the same time.
"I worry about the engagement of the students who are learning remotely," she said. "Are they getting the same experience as the in-person students? I constantly find myself checking in with them – are you guys at home ok? Do you have any questions for me?"
And Ferris notes that opportunities for students to socialize with their peers, arguably a central part of the high school experience, look very different this term.
"The online students don't have the same opportunities to hang out with each other," Ferris said. And for the in-person students, "lunchtime would normally be a time when they relax, connect with each other and talk about things that don't have to do with class. There are usually 10 students per table, and now there are four with partitions between them.  What our school has done is create outdoor spaces that allow for physically distanced socializing."
Regardless, teachers like Ferris bring a silver lining to education during a pandemic. She said it has forced her to re-examine her teaching to ensure she reaches her students and guides them in ways that fit multiple learning environments.
"I've had to really look at how I teach and what methods I use," Ferris said. "It's allowed me to take a look at my curriculum and see how I could do things in a different way to make sure everyone is engaged, even if they're working on their own where they would normally be working together and more collaboratively."
Ultimately, The Episcopal School of Dallas will continue to send its graduates to college at schools ranging from Austin College to Yale. In fact, the 107-member Class of 2020 received 460 acceptances to 139 colleges and universities. And teachers such as Ferris deserve a lot of the credit for doing their part to get them there.
"In my calculus class, I hope there might be an engineer or two, or a physicist," she said. "Then again there might not be and I understand that. Some of my students will ask, 'Mrs. Ferris, why do we need to know math?' It's because by doing math, you're exercising your mind. You're learning to think critically. You're learning how to problem solve. You're learning to do something that's difficult. And that will serve you well no matter what career you choose. Just like working out exercises your body and you get stronger? This is exercise for the mind."