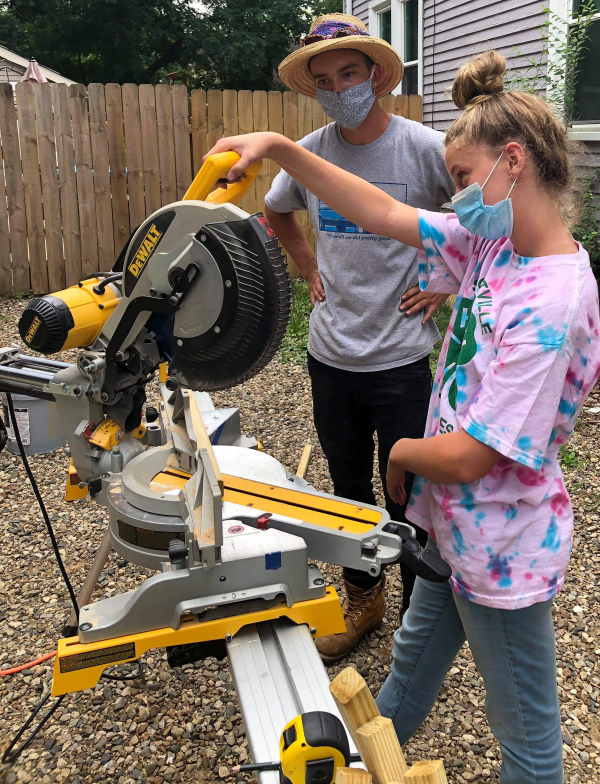 Kalamazoo College students such as Jonah Bolton '21 who sought on-the-job work experience and community-development opportunities didn't have to choose between the two this summer thanks to the Center for Civic Engagement and the Center for Career and Professional Development.
Through the departmental partnership, another group of qualified students worked at local organizations from AACORN Farms to the YWCA in Community Building Internships. The positions, offered each year, lasted about six to eight weeks, and interns were on the job for 30 to 40 hours a week while earning a $4,000 stipend.
Bolton, a political science and international area studies double major with a focus on Latin America, worked with Building Blocks of Kalamazoo, an organization originally founded in 1995 through a sociology course at Kalamazoo College offered by Professor Emeritus Kim Cummings.
Upon its founding, the organization wanted to provide community organizing experience for students while supporting the efforts of neighborhood associations in low- to medium-income neighborhoods. Bolton followed that mission by working as a volunteer coordinator and performing roles similar to a construction facilitator, helping to coordinate home improvement projects and expanding the organization's bandwidth in Kalamazoo's Northside neighborhood.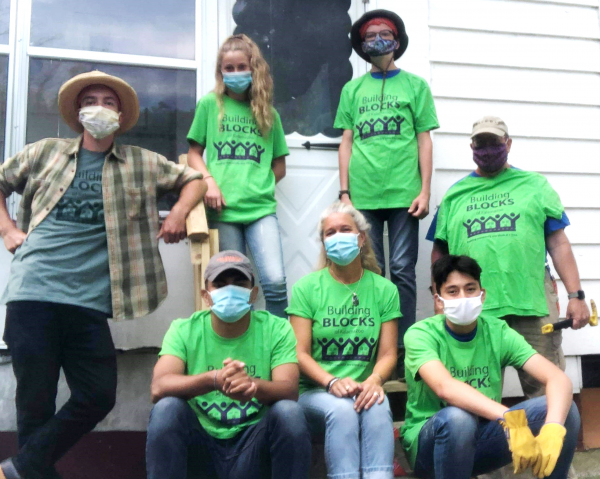 "Our guiding philosophy at Building Blocks is that we empower residents to do community building themselves, whether that's to improve a yard, plant flowers or pursue neighborhood cleanups," Bolton said. "They hadn't done a lot of construction recently. But I've taken on the role as the new liaison on the Northside, where Building Blocks hadn't done any programming for a couple of years."
In summer 2018, Bolton worked with the Appalachia Service Project evaluating a home's renovation needs as a volunteer coordinator. He also obtained experience as a volunteer organizer through First United Methodist Church in Kalamazoo where his mom, Julie Kline, serves as the senior pastor. Bolton then transferred that experience into what he did with Building Blocks, allowing the organization to pursue projects that benefited homeowners who couldn't pursue projects themselves. Projects included securing porches and hand rails, replacing treads leading to a porch, painting, replacing windows and even fixing bullet holes in doors.
In Bolton's words, the volunteers repaired the violence and the trauma that had been at houses as they created connections between volunteers and residents.
Building Blocks "was running into problems we don't necessarily find in other areas of Kalamazoo, where we encounter people who are disabled or can't work on their own homes," Bolton said. "That's when we started bringing in volunteers from different churches in the area. I have connections with the churches and that's the model I've been developing."
Most of the time, Bolton was preparing for a job the volunteers would tackle on the following Saturday, figuring out what projects would be done, which volunteers were available, and what materials and tools were needed. Others in the organization rarely were available to address such issues, making Bolton a valued asset.
The following Saturday, Bolton took the volunteers around the worksites, gave them a breakdown of what they were doing at each site and connected them with neighborhood residents.
"That's my favorite thing: Creating connections between these volunteers who might attend a primarily white church and those who can give first-hand witness to some of the effects of systemic racism in our neighborhoods," he said. "I see that in our introductions and casual conversations, and we push for that community interaction."
Going into these projects, Bolton was hoping for a career pursuing political science on a global scale. Now he's not so sure.
"I've been studying politics and international studies and these larger scale things," he said. "But I've been having such a good experience learning how to engage in local politics and work in my local community, it feels so much more tangible. I can see what I'm doing and I really like that. I learn so much from all the residents."
Regardless of what he chooses, Bolton's experience at Building Blocks came as a blessing in disguise.
"When we applied for these internships, I applied for several, although Building Blocks wasn't one of them," he said. "I didn't even know what it was. I applied for all these other internships and Building Blocks found me, and asked me to be a part of their team. For Building Blocks to turn out to be such a wonderful thing for me was a blessing. I'm proud of that organization because it's been devoted to justice even with the pandemic. To not be stagnant in this time is very cool to me."