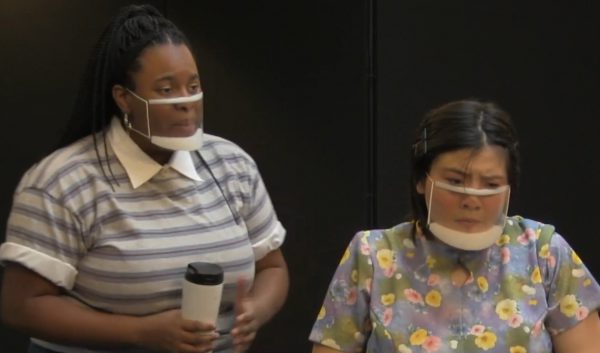 The Kalamazoo College Festival Playhouse is producing two plays this fall with the first available now through a performance that was recorded October 23.
Kokoro, meaning True Heart, was directed by Ynika Yuag '21 as a part of her Senior Individualized Project (SIP). The play, filmed in front of a small audience of socially distanced invited guests in the lobby of the Nelda K. Balch Playhouse, explores the struggle of a young Japanese mother as she tries to navigate the foreign culture of the United States. The countries' cultures and moral codes clash after Yasako, played by Rebecca Chan '22, commits a horrible crime.
Other cast members include Fadi Muallem '24 as Hiro, Autumn Buhl '21 as Angela, Milan Levy '23 as Evelyn, and Karly Paige Im '21 (of Western Michigan University) as Shizuko. Costume Designer Marie Townsend '21, Scenic Designer Chris Diaz '21 and Stage Manager Teyia Artis '21 also worked on the play for their SIPs.
A second production, simply titled K, is an original script that was devised by K students last spring to explore systemic racism. More information will be coming soon about how you can see it November 5-8.