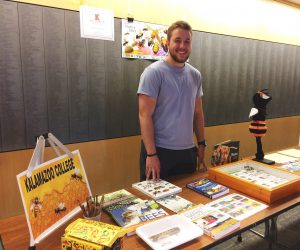 There's been a buzz in the national news as Asian hornets, also called murder hornets, have appeared for the first time in the northwestern U.S. The two-inch-long invasive insects have frightening stinging power and are significant predators of honeybees.
As the world marks World Bee Day on May 20, Kalamazoo College Biology Professor Ann Fraser said she doesn't expect Asian hornets to arrive in Michigan any time soon but they could be a threat to local honeybees if they arrive.
"I got to see some of these Asian hornets when we were in India in December," Fraser said. "Some people were fighting them off with sticks or even cricket bats. But can they survive in this climate with Michigan's winter? I'm not sure of their range in terms of temperature tolerance. And are they going to decimate the honeybee population? Probably not, but they'll certainly take out some hives."
Nonetheless, climate change, habitat loss and pesticides are already threatening bees worldwide and have been for years. That makes World Bee Day—which marks the 1734 birthday of Slovenia-born Anton Janša, a pioneer in modern-day beekeeping—essential for preservation. The international affair, established in 2018 by the Food and Agriculture Organization of the United Nations, recognizes the world's 20,000 species of bees, including about 465 in Michigan. A number of these are in decline, including some of our bumblebees. Fraser said habitat loss and pesticides are of particular concern as food sources are disappearing for bees, and neonicotinoids, which are pesticides chemically similar to nicotine, are deadly for them.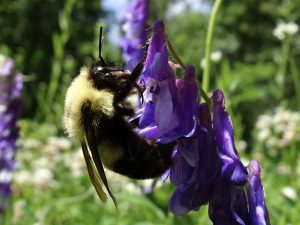 To work against the declines caused by these threats, swarms of World Bee Day events will be conducted virtually this year, and Fraser recommends acting locally. For example:
Fraser is recruiting citizen scientists from nine counties in Southwest Michigan for the Southwest Michigan Bee Watch. She and her students, including Niko Nickson '21, are tracking bumblebee diversity and measuring local restoration efforts. Residents from Allegan, Barry, Berrien, Branch, Calhoun, Cass, Kalamazoo, St. Joseph and Van Buren counties are invited to participate. Learn more about volunteering at the organization's website.
Fraser and Nickson recently participated in a virtual Lunch and Learn through Pierce Cedar Creek Institute, discussing general bee facts and the Southwest Michigan Bee Watch. You can watch the recorded event on YouTube.
You can take the sting out of habitat loss for bees by planting a diverse array of native wildflowers that provide food for pollinators. Minimize your use of insecticides and shelter bees by providing bare ground, limiting mulch in flower beds or providing a stem nest. A stem nest typically is a wood block with drilled holes in various sizes and hollow plant stems or paper tubes. Varieties are available at many hardware stories, gardening stores and retail centers.
To bee or not to bee is not the question: bees are vital to humans. And when it comes to World Bee Day, Fraser says, "Anything that puts the spotlight on them can help them thrive."