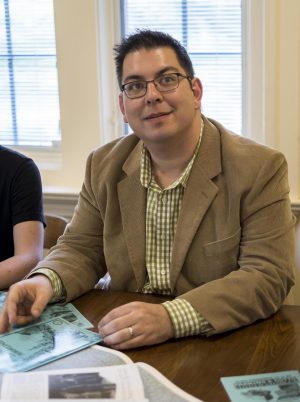 A Kalamazoo College English faculty member has helped develop a project that ensures his field will be inclusive and engaging with scholars from underrepresented groups.
Associate Professor of English Ryan Fong is one of four scholars from around the country who founded Undisciplining the Victorian Classroom, a digital humanities project that reimagines how to teach Victorian studies with a positive, race-conscious lens. The title was inspired by a recent essay by Ronjaunee Chatterjee, Alicia Mireles Christoff and Amy R. Wong in the Los Angeles Review of Books, titled "Undisciplining Victorian Studies," which itself borrowed from York University Professor of English literature and Black studies Christina Sharpe's call for scholars to "become undisciplined" as a way to undo racist theories and the limited, predominantly white scopes that scholars have inherited.
"The three other founders and I wanted to create a set of resources for how to bring this work into the classroom to infuse our teaching," Fong said. "The website developed as a result of those conversations, and we collaborated with one another to build the site and involved other scholars from around the world to create our first batch of teaching materials."
In addition to Fong, the founding developers are Pearl Chaozon Bauer, an associate professor of English at Notre Dame de Namur University; Sophia Hsu, an assistant professor of English at Lehman College, CUNY; and Adrian S. Wisnicki, an associate professor of English at the University of Nebraska-Lincoln.
The K community can take pride in the team's project because many of the lesson plans featured on the website draw on those that Fong first developed in his classroom through his own pedagogy. Take, for example, the lessons regarding the work of Mary Seacole, a British-Jamaican nurse, healer and businesswoman who set up the "British Hotel" during the Crimean War. Seacole hoped to assist with nursing the war's wounded but was turned away when she applied to be in the nursing contingent. Instead, she traveled independently and set up her own "hotel" for tending to the wounded, making her popular with service personnel, who raised money for her as she faced extreme poverty after the war.
"A lot of what we've been doing in the project is creating resources to help instructors teach materials like Mary Seacole's," Fong said. "She wrote an important travelogue and memoir about her experiences, and the teaching materials on the site will help teachers contextualize this work and teach it alongside people that we already know and love like Charles Dickens and Charlotte Bronte. We're hoping that we're giving scholars tools to incorporate new materials into their classes or perhaps even conceive and remake whole new classes."
In addition to lesson plans and syllabi that involve writers such as Seacole, the Undisciplining the Victorian Classroom website provides Zoom-based broadcasts with recorded conversations, featuring professors to further promote a diverse base of historical writers.
"We're recording conversations with colleagues about what we do in our classrooms," Fong said. "It gives us a chance to share how we teach and how we can expand the materials and approaches that we have typically used. Hosting these has given me a lot of opportunities to share what I've developed at K. Bringing the expertise that I've been able to gain into these conversations with teacher scholars around the country and around the world has been really exciting."
In the short term, Fong said the site's success will be evaluated through the number of people visiting the website. Yet ultimately, the hope is to get experts and scholars throughout higher education excited to collaborate with the project while empowering everyone who does the work of teaching literature in colleges and universities—from graduate students to adjunct faculty and tenured professors.
"Around the world, we're all really working toward these goals of social justice, anti-racism, and diversity, inclusion and equity," Fong said. "If we're working in alignment with those principles and we're doing it thoughtfully as scholars, then I feel like that we have the potential to make an impact not just in higher ed, but all over."