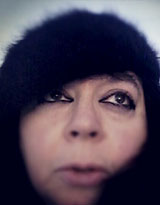 The New Yorker magazine has accepted for publication a poem by Kalamazoo College Writer-in-Residence Diane Seuss '78. The poem is expected to appear in the fall. Many other good things happening relative to Di's writing.
Her third book of poems, Four-Legged Girl, comes out in early October from Graywolf Press, arguably the best poetry press in the country
She also recently finished a draft of her fourth collection, which will likely come out from Graywolf 2018. "It's a departure for me–titled Still Life with Two Dead Peacocks and a Girl–and all based on the aesthetics of early still life painting," wrote Di. "I'll be revising that manuscript this summer and working on some new stuff. Poems from Two Dead Peacocks are forthcoming in The Iowa Review, Michigan Quarterly Review, and (yes) the New Yorker. I also have new poems coming out in Blackbird this spring and various other magazines."
Di had a residency last summer at Hedgebrook, a retreat space for women writers on Whidbey Island off the coast of Washington State in Puget Sound. There she wrote a good portion of Still Life with Two Dead Peacocks and a Girl. This summer she will be in residency at the MacDowell Colony in New Hampshire this coming summer to continue working on the fourth collection and generate new material for what she hopes "will be something like a memoir," she wrote. "I believe MacDowell is the oldest artists residency in the country. It has hosted James Baldwin, Thornton Wilder, Leonard Bernstein, Willa Cather, Audre Lorde, and many more contemporary artists. I'm excited to be in a space where there are visual artists, musicians, and writers all in our own studios making new work."
Di writes brief nonfiction as well as poetry. She recently learned she won Quarter After Eight magazine's Robert J. DeMott Short Prose Contest, and she will have another piece of nonfiction published in Brevity in the fall.
Breathless yet? Not Di. This month she will moderate a panel at the Associated Writing Programs National Conference in Minneapolis. The panel includes Di, poet Adrian Blevins, fiction/nonfiction writer Claire Evans, and fiction writer Bonnie Jo Campbell. It's called "Hick Lit: Women Writing from the Circumference."
Di will read her work at Sarah Lawrence College in June, and at Colby College in the fall.