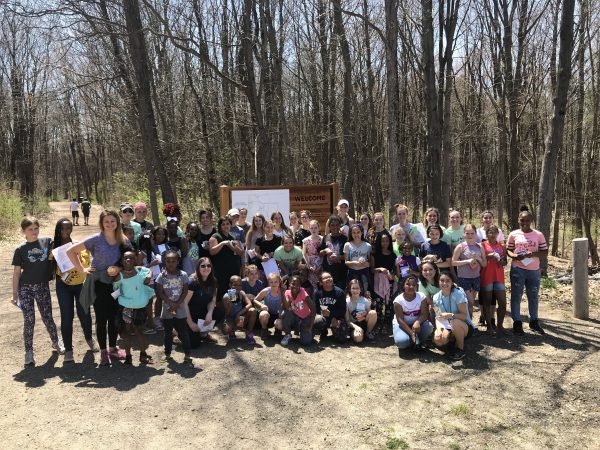 When the world celebrates the International Day of Women and Girls in Science on Feb. 11, a Kalamazoo College student organization will be doing what it can to inspire local fourth- and fifth-graders.
Each Tuesday and Thursday, K's Sisters in Science (SIS) visits Northglade Montessori Magnet School to encourage girls to seek an education and career in the sciences. The visits, coordinated through Kalamazoo Communities in Schools, involve hands-on lessons, experiments and field trips that nurture interest in STEM fields (science, technology, engineering and math). This allows SIS members to serve as role models, and local youths to grow their dreams of future achievements.
"We want to provide these girls with an influential woman in their lives," said Marjorie Wolfe '20, a SIS member and chemistry major from Kalamazoo. "A lot of them don't come from backgrounds where a career in science seems accessible. We're showing these girls they can go to college, do research and become doctors, engineers and more. We serve as sisters, mentors and examples of what they can become."
According to the United Nations, less than 30 percent of scientific researchers in the world are women and only about 30 percent of all female students select STEM-related fields in higher education. Female representation is especially low professionally in information and communication technology at 3 percent; natural science, mathematics and statistics at 5 percent; and engineering at 8 percent.
To reverse these trends, the U.N. General Assembly established the International Day of Women and Girls in Science to celebrate women scientists and build equal access to and participation in science for women and girls. About 40 SIS members, including Karina Aguilar '22, a biology and Spanish double major from Albuquerque, New Mexico, are doing their part to bolster that effort.
"Last year, in between two labs, I would go to Sisters in Science and do a nice, fun thing before I had to do something serious for four hours," Aguilar said. "When you're a student, it's easy to be wrapped up in what's happening on campus — we call it the K bubble. This helps us break that bubble, serve the community and be a mentor. It gives us a portal to the community."
Aguilar hopes SIS experiments this year will include a lesson in making ice cream, although her favorite experiment to date involved a bridge-building contest that her little sister won. Such experiments, Wolfe said, help the fourth- and fifth-graders understand the scientific process and get them excited to be in school. Aguilar and Wolfe agreed the age group is critical in recruiting girls in science because they're starting to learn what interests them most in school and they have yet to decide what classes to pursue for themselves.
"Initially, the first few times we're at the school, we're just trying to show we're friendly and gain their respect," Wolfe said. "That can go a long way for these girls. Eventually, we help them fill out worksheets that teach them what a hypothesis is. Before you know it, we're working on an experiment and they say, 'Oh! I know what the hypothesis will be!'"
When asked what she would do if she one day saw that one of her little sisters achieved a scientific breakthrough, Wolfe said, "The cool part would be knowing they stuck with science and believed in themselves; that they didn't listen to someone who told them they couldn't do it."
Aguilar said, "I'd probably cry. Maybe it wasn't from me specifically, but I'd love knowing that they developed that drive to be scientists. It would be amazing to see these girls who aren't necessarily pushed to go to college make a career for themselves in science."
"SIS was created for exactly what Aguilar and Wolfe have stated – to give young girls the knowledge that they can do science" stated Stevens-Truss, who envisioned the group in 2001.