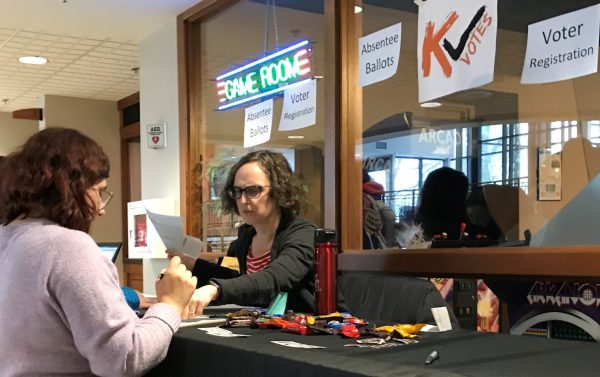 The election is important, and if you have questions about the voting process, Kalamazoo College has a place for you to get answers regarding voter registration, voting deadlines, voting rights and the candidates.
K Votes is a non-partisan coalition through the Center for Civic Engagement that informs K students, faculty and staff about the voting process. If you're from a state other than Michigan and you're not sure how you register to vote here, K Votes can help. If you're not sure where to go on Election Day, K Votes can tell you. If you need a ride to the polls, K Votes will get you there.
"K Votes is committed to providing all with the resources to be civically engaged," said Assistant Director for Innovation in Civic Engagement and Experiential Education Emily Kowey '17, who oversees K Votes. "We want to make sure that everyone in the College community has the tools they need to be informed about their vote, how to vote and what it means."
The students who volunteer for the group are enthusiastic about the work they do and the importance of helping others overcome barriers to voting.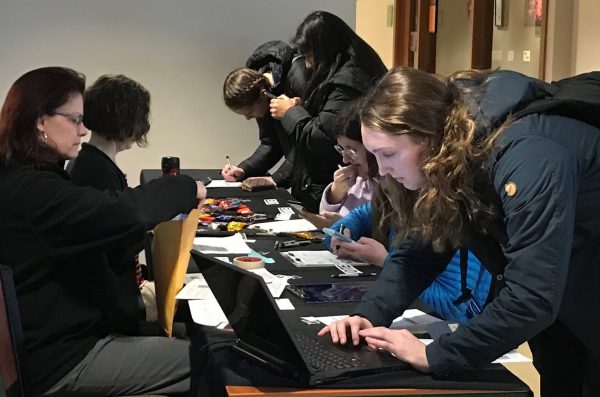 "I am thrilled to work with a group of dedicated K students who are passionate about registering their peers to vote and providing them the information and resources to vote in the upcoming elections," Kowey said. "Having students, faculty and staff at the forefront of our volunteer efforts shows everyone that this campus is serious about supporting students in voting and civic engagement."
In her second year with K Votes, Kaitlyn Dexter, a sophomore from Duluth, Minnesota, said she was gratified to see a 28.6 percent increase in K's voter turnout during the 2018 midterm election over the 2014 midterm, a lift she attributes at least partly to K Votes. About 40.4 percent of K eligible voters cast ballots in the 2018 midterm.
"That was fantastic and I would love to have a high turnout for this year's primary, too," she said.
According to its website, K Votes registered more than 130 student voters before the 2018 midterm. It also collected and mailed more than 30 absentee-ballot applications and transported 110 students to local polls.
"Through K Votes, we make sure that everyone knows how to register, request an absentee ballot, learn about the candidates and vote, while being aware of each deadline," Dexter said. "Gathering all this information takes a long time for people to do by themselves, so I think removing that time barrier is really beneficial, especially for college students."
Kayla Carlson, a sophomore from Hastings, Michigan, said her desire to nurture voter participation through K Votes came naturally. She was a community volunteer in high school, and Rock the Vote President Carolyn Dewitt '04 is a graduate of Carlson's high school and K.
"I have been fortunate enough to talk to Carolyn and she has inspired me," Carlson said. "K Votes was one of the first engagement programs I had heard of on campus and it was an initiative I believed in."
Carlson recently was also chosen to be a regional ambassador for Rock the Vote. That means there's a second organization for which she volunteers to encourage her peers to vote.
"Rock the Vote is nonpartisan, just like K Votes, and that's important to me," she said. "I think everyone from every background should be able to vote."
Hope Miller, a sophomore from Manistee, Michigan, was one of 33 students from two-year and four-year higher-education institutions across Michigan to serve on the Collegiate Student Advisory Task Force selected by Secretary of State Jocelyn Benson. The group was asked to recommend ways to help other college students overcome their barriers to voting.
Miller was the only student from a private college to serve the task force. Its recommendations included suggestions surrounding voter registration, absentee voting, logistics and transportation, voter education and state laws, issues that also are important to K Votes.
In the time since the task force made those recommendations, Miller — like Carlson — has become a regional ambassador for Rock the Vote, though K Votes is the organization where she's spent the most time.
"I'm really excited to see what we can do in the future and I hope we can get more people involved with K Votes," Miller said.
The last day to register to vote for the Michigan primaries, other than in person at Kalamazoo City Hall on the day of the election, is Monday, Feb. 24. K Votes will help the K community with registering to vote and absentee ballots through that day. Its last tabling session will be from 10:45 a.m. to 12:45 p.m. Feb. 24 at Hicks Student Center.
For students who are registered to vote through their campus address, a shuttle will drive students to their polling location at the Douglass Community Center on Tuesday, March 10. A separate shuttle will drive students to City Hall where they can register to vote in person.
Students interested in volunteering for K Votes may fill out this form on the Center for Civic Engagement website. Students may select dates and times based on their availability. Those with questions about volunteering or K Votes as a whole may contact Kowey at ekowey@kzoo.edu.