SAGA Foundation, a nonprofit organization committed to cultivating leadership, has awarded a $1.1 million grant to Kalamazoo College to support the College's mission to develop enlightened leaders.
The grant, honoring foundation creator Bill Laughlin, will have a far-reaching impact on Kalamazoo College's campus and in the greater Kalamazoo area by: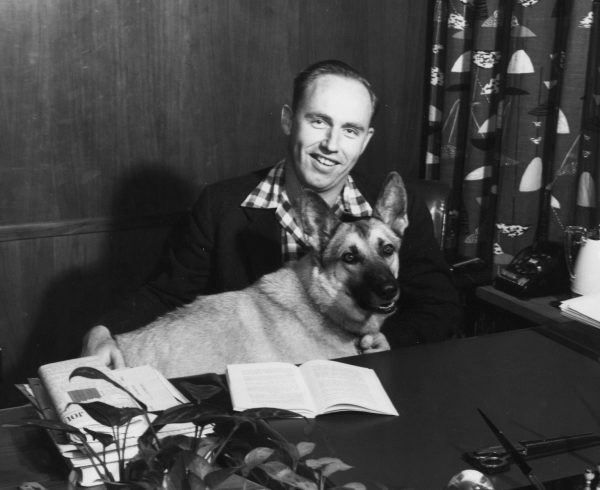 Providing SAGA Foundation scholarships for the College's juniors and seniors
Supporting a Bill Laughlin Endowed Internship program, giving stipends to K students working with nonprofit organizations
Establishing a Bill Laughlin Leadership Award presented annually to two students who best demonstrate leadership, an entrepreneurial spirit and commitment to community
Enhancing the College's men's and women's golf teams
Initiating Laughlin Links, an outreach program introducing golf, and teaching valuable life skills, to youth in the Kalamazoo community
"This grant will offer amazing opportunities for Kalamazoo College students to develop their leadership skills on campus and beyond," Kalamazoo College President Jorge G. Gonzalez said. "It supports K's approach to the liberal arts by emphasizing experiential education within our local community as well as nationally. We are excited and honored by SAGA Foundation's trust and confidence."
The deep connection between Laughlin and K began in 1951 through Saga Corporation, a food and restaurant company he co-founded that supplied the College with food service. Laughlin headed the food service program and became a popular figure at K, briefly living with his dogs in the basement of Welles Hall. He occasionally taught economics and coached the golf team, which won five MIAA conference championships under his guidance in the late 1950s and early 60s.
As Laughlin's business grew, he served on the boards of more than 45 nonprofit, political and business organizations, including the College's Board of Trustees from 1963-1980. SAGA Foundation was established to continue his charitable efforts and promote his values. SAGA Foundation President David Bartoshuk said Laughlin was a visionary who believed global problems require bold actions through collaboration, teamwork and open communication.
"Entrusted with continuing Bill's legacy, SAGA Foundation is honored to partner with the College and provide a multifaceted grant that supports underserved youth and promotes entrepreneurship and leadership," Bartoshuk said. "We are especially inspired by the creative ways the supported programs incentivize students to bring their passion to the community and make a lasting impact on the world."
Kalamazoo College, founded in 1833, is a nationally recognized residential liberal arts college located in Kalamazoo, Michigan. The creator of the K-Plan, Kalamazoo College provides an individualized education that integrates rigorous academics with life-changing experiential learning opportunities.