It's a high achievement to receive a National Science Foundation (NSF) Graduate Research Fellowship. Just 16 percent of those who submitted proposals this year were chosen for the prestigious program.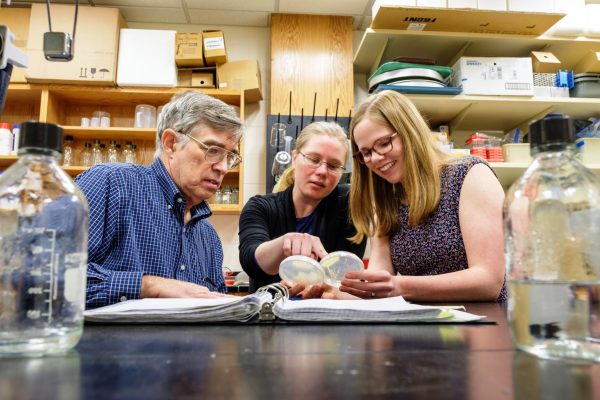 Megan Hoinville '18 is part of an even more exclusive group. Though Kalamazoo College alumni are regular recipients of the fellowship, she is the first K student to receive one as an undergraduate since 1997.
Her proposal focused on how the conformational flexibility of proteins can be used in drug-discovery efforts for proteins that are implicated in cancer.
The fellowship provides a three-year stipend of $34,000 along with a $12,000 allowance for tuition and fees. The NSF says the fellowship, awarded for almost 60 years, is the oldest of its kind and that its reputation "follows recipients and often helps them become lifelong leaders" who "contribute significantly to both scientific innovation and teaching." Among past recipients: former U.S. Energy Secretary Steven Chu, Google co-founder Sergey Brin and "Freakonomics" co-author Steven Levitt.
After her graduation in June, Hoinville will enter the biophysical sciences Ph.D. program at the University of Chicago. She says she plans on using biophysical techniques to study topics in immunology, and wants to help pioneer more effective treatments for autoimmune diseases.
In the long term, she hopes to become a research scientist.
"I have had wonderful physics and biology professors who were incredibly supportive and fostered my love of science," she says.
Although her fellowship proposal was based on research she conducted at the University of Michigan for her K Senior Individualized Project, she started doing research as a first-year student under Kalamazoo College Biology Professor Amanda Wollenberg, and since has been a co-author on two peer-reviewed publications.
She says she would not have gotten such extensive research experiences at many other colleges, and that played a large part in her decision to attend K.
"The size of Kalamazoo College lets you have this kind of opportunity," she says. "You get to really know your professors, and have a relationship with them."
Another K advantage was that she could double-major in biology and physics, a combination that isn't allowed at many schools because of the intense demands both place on a student. Physics Professor Tom Askew pushed her to apply for the fellowship and write the required proposal.
Both Askew and Wollenberg say Hoinville's interdisciplinary background was likely irresistible for the NSF. Apparently, it had big appeal for graduate schools, as well. The University of Chicago, Cornell University and University of Michigan "were fighting over her," Askew says.
Wollenberg says she has high expectations for Hoinville in graduate school, and is sure they will be fulfilled.
"She's going to contribute great things to whatever field she chooses to pursue," she says.
The emphasis that Kalamazoo College places on individual scholarship and scientific research has not only been instrumental in Hoinville's academic career, but also in that of her uncle, Jay Hoinville '86, who received a postdoctoral National Science Foundation fellowship to pursue studies in magnetic recording. He now is an entrepreneur and works at Western Michigan University.