Each September brings a fresh start at Kalamazoo College as campus buzzes with the excitement of those joining the hive for the first time. Orientation events for first-year students and their families run throughout the week, kicking off with move-in day on Wednesday, September 7.
Be sure to catch the following highlights and opportunities on Wednesday.
Moving in
Resident assistants and First-Year Experience (FYE) mentors will be ready to welcome students at check-in tables in each residence hall from 9 a.m.–4 p.m. on September 7. Families are encouraged to arrive throughout the day, as the morning traditionally is extremely busy in the residence halls. Pick up your orientation folder from the FYE mentors, then see Residential Life staff to get your student ID and room key, check into your room and get settled. Health verification forms must be completed before check in. Students with incomplete requirements will be directed to the Health Center in the Hicks Student Center, which will be open until 4 p.m.
Information Services staff will be available in Harmon, Hoben and Trowbridge main lounges to answer questions and offer help connecting to K's computer network from 1–4 p.m.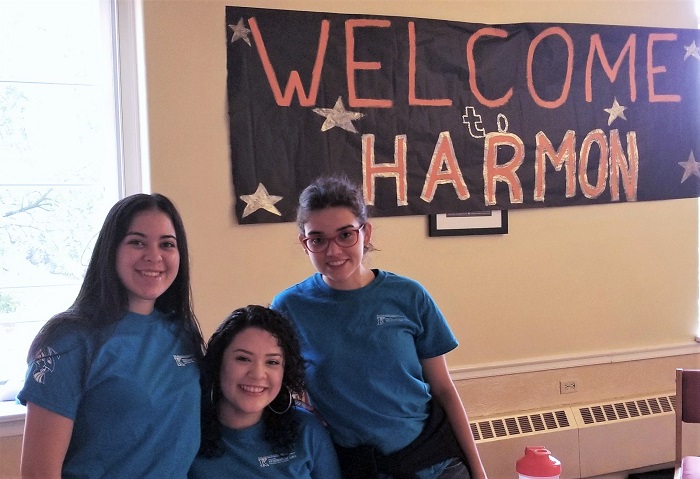 Getting what you need
Stop by the information table at the Hicks Student Center atrium between 9 a.m. and 5 p.m. to pick up schedules and maps or get directions and answers to all your questions. The Kalamazoo College Bookstore, in the lower level of Hicks, will be open from 9 a.m. –5 p.m. and offer 20 percent off Kalamazoo College imprinted items.
Eating right
Families are welcome to have lunch and dinner on campus at the Hicks Dining Center from 11 a.m.–12:45 p.m. and 5–7 p.m. Students may use their student ID, which serves as their meal card, while families may pay at the entrance ($8.15 per person for lunch and $11.50 per person for dinner).
The Book Club Café, on the first floor of the Upjohn Library, will serve Kalamazoo Coffee, hot chocolate, tea and specialty drinks as well as grab-and-go options such as pastries, house-made salads, sandwiches and sides from 9 a.m.-5 p.m. In addition, the Richardson Room will be open from 1–5 p.m. in the Hicks Student Center, offering a variety of options including an extensive deli line, homemade soup, grab-and-go sandwiches, salads, yogurt parfaits, fruit, sweet and salty snacks and beverages.
If you want to eat off campus, ask for a list of nearby restaurants at the information table and explore Kalamazoo's excellent restaurant scene.
Building community
First-year students are required to attend three sessions Wednesday evening. First, make your way to the Quad with your orientation folder by 7 p.m. for the Hornet Student Welcome. The College's president, dean of students, first-year class dean, college chaplain, FYE mentors and the Office of Student Activities will welcome you to campus.
Next, meet your seminar group and FYE mentors on the Quad at 8 p.m. for introductions. Learn more about the orientation schedule for the rest of the week and get answers to your questions.
Then, meet with resident assistants and your fellow residents at 9 p.m. to talk about community expectations, living in residence halls, and college policies, and get to know your new neighbors. Trowbridge residents will meet in Stetson Chapel, Hoben residents in Dalton Theatre and Harmon residents in their building's main lounge.
Finally, take some time to get your room set up, relax and get ready for a full day on Thursday.
But wait … there's more!
Athletic practices for fall sports (football, soccer, volleyball, golf and cross country) have already begun and will continue throughout orientation week. A program for first-generation students and their families will also be held on Wednesday. Check your K email for an invitation and information.
We'll keep you busy the rest of the week with social opportunities, advising appointments, shared first-year experiences and discussions, and information on a variety of important topics to help you start your first year at K. Expect to learn a lot and have fun
For more information on the orientation schedule and move-in day, visit the First-Year Experience website.