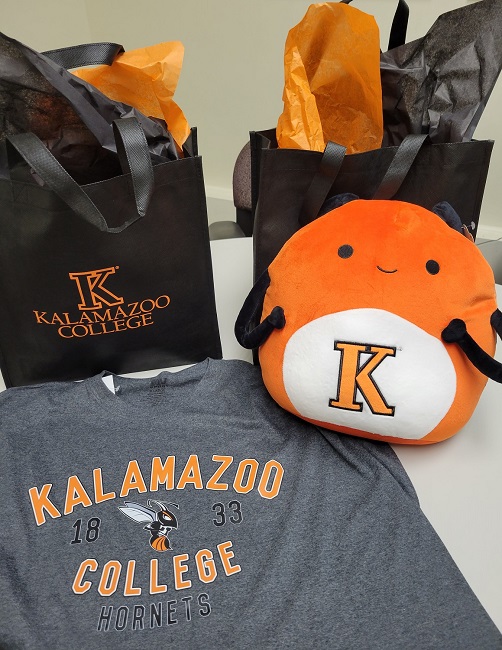 The Office of College Marketing and Communication wants to show the world how much Kalamazoo College pride flows through our students, faculty, staff, alumni and friends. Participate in National College Colors Day this Friday (September 2) by wearing orange and black, and sharing your picture on social media for your chance to win a new Buzz the Hornet Squishmallow pillow or a T-shirt from the Kalamazoo College Bookstore.
We are joining colleges and universities across the country in the annual Friday-before-Labor-Day celebration that fuels school pride. Simply use #ShowUsYourK on social media next Friday, and you'll automatically be entered for a chance to win one of the prizes.
Read the contest rules below and start considering how you will participate in National College Colors Day. Thanks for letting your K spirit shine!
Contest rules
No purchase is necessary to participate in Kalamazoo College's National College Colors Day contest and a purchase doesn't increase a participant's chance of winning.
The contest will run from 12:01 a.m. to 11:59 p.m. EDT September 2. A College Marketing and Communication (CMAC) representative will choose the winner at random September 6 from entrants who participate September 2. Please avoid creating multiple accounts to submit additional entries. There will be one entry per participant regardless of the number of posts. The winners will be notified September 6.