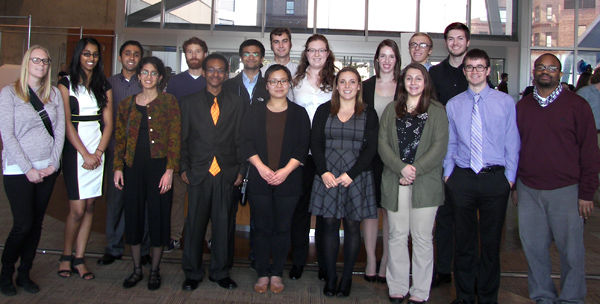 Fifteen Kalamazoo College students joined three of their teachers (professors Dwight Williams, Santiago Salinas and Ellen Robertson)  to present research at the 2016 West Michigan Regional Undergraduate Science Research Conference (WMRUGS) in Grand Rapids, Michigan.
The annual conference provides undergraduate students with an opportunity to present their own research to a large and supportive group of professional scientists. K was well represented with sophomores, juniors, and seniors in attendance from both the Departments of Biology and Chemistry: Suma Alzouhayli '17 (Chemistry and Biology), John Bailey '17 (Chemistry), Christi Cho '17 (Chemistry), Quinton Colwell '17 (Chemistry), Rachel Fadler '17 (Chemistry), Sarah Glass '17 (Chemistry), Sharat S. Kamath '19, Christina Keramidas '18 (Chemistry and Biology), Cydney Martell '19 (Chemistry), Garret Miller '16 (Chemistry), Susmitha Narisetty '19 (Biology), Darren Peel '17 (Biology), Collin Steen '17 (Chemistry), Myles Truss '17 (Chemistry), Raoul Wadhwa '17 (Chemistry and Computer Science). In addition to presenting their research, students heard a keynote address and research talks by undergraduate and graduate students from regional colleges and universities. This free event also provided undergraduate researchers the opportunity to interact face-to-face with graduate school recruiters and to learn more about future career opportunities.
There were 169 undergraduate posters presented at WMRUGS from students representing 17 different college and universities. Ten students from the Kalamazoo College Department of Chemistry, presented results of their research conducted under the mentorship of Kalamazoo College faculty that included Laura Furge, Regina Stevens-Truss, and Dwight Williams. Other students presented the results of their summer research projects conducted in laboratories at Indiana University and the University of Oregon. Students from the Department of Biology presented their findings from research conducted this past summer in laboratories at South Dakota State University and Michigan State University.