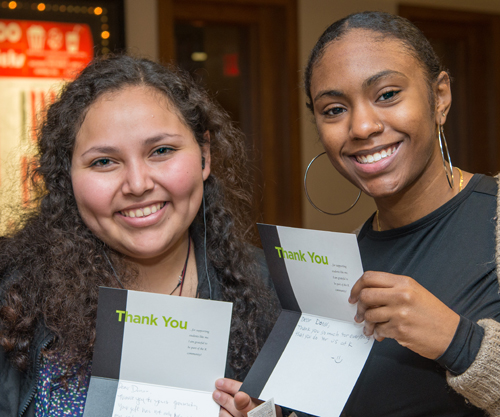 Kalamazoo College invites students, faculty, staff, alumni and others to celebrate "Grateful for K Day" on Wednesday, April 5, 2017.
Sponsored by the Kalamazoo College Fund, and formerly called "Tuition Freedom Day," the April 5 event educates students about the important role philanthropy plays in sustaining and enhancing Kalamazoo College and (hopefully) inspires them to express their gratitude for the alumni, parents, faculty, staff and friends who generously support the College each year.
On Grateful for K Day students write hundreds of thank-you notes to express appreciation for the generosity shown through philanthropic support of Kalamazoo College. More than 98 percent of K students receive scholarships and/or some form of financial aid. This day acknowledges K donors and helps to educate students on the impact philanthropy has on their education and K experience.
What can you do on Wednesday to honor generosity and express gratitude? If you're a student, please visit the Hicks Center from 10 a.m. to 6 p.m. to write a thank-you note or two to our donors. After you've written your notes, grab a cookie and hot chocolate!
If your a donor, please share your "Why I Give" and "Why I am Grateful" stories on our website or Facebook page, where you can also learn more about Grateful for K Day.
Thanks for helping to put the K in thanKs!