The Great Lakes Colleges Association (GLCA) has appointed Kalamazoo College Provost Mickey McDonald as its new president. McDonald will begin his position at the GLCA in July 2018.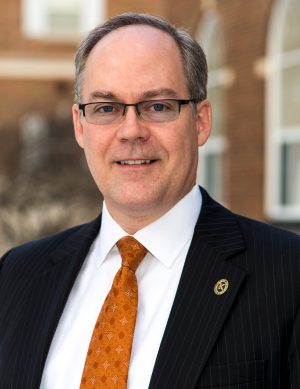 K President Jorge Gonzalez will consult with faculty leadership to plan for the appointment of an interim provost to serve during the 2018-19 academic year. K will also begin preparations for a national search for the provost position.
In a message to faculty and staff, President Gonzalez wrote that McDonald provided invaluable support and counsel during his presidency. "I will miss his sharp mind, insightful knowledge of the College and of higher education, unflappable personality, good humor, and friendship. Mickey's selection for the GLCA presidency is a testament of his leadership abilities and of K's reputation in the higher education community."
During his nearly 10 years of service, McDonald significantly shaped Kalamazoo College's faculty, curriculum and future. He hired approximately one-third of the tenure-track/tenured faculty currently at K, increasing faculty of color from approximately 15 percent to 25 percent, and women faculty from approximately 45 percent to 55 percent.
McDonald helped support implementation of many of the elements of the Plan for Kalamazoo College's Future including faculty approval of new graduation requirements and other curricular innovations, and an increasing emphasis on making K more diverse and inclusive. His leadership will help shape the vision of K for the next five years as he currently serves as co-coordinator of K's current strategic planning initiative.
With former President Eileen Wilson-Oyelaran and others, McDonald helped envision, plan and establish the Arcus Center for Social Justice Leadership. He also helped secure more than $3.25 million in major institutional grants from the Andrew W. Mellon Foundation (in support of the Shared Passages Program and also in support of major diversity and inclusion initiatives), the Sherman-Fairchild Foundation, Herbert H. and Grace A. Dow Foundation, and the Fund for the Improvement of Postsecondary Education, among others. He served as acting president of K from December 2013 through March 2014.
Higher education leadership and local community engagement are values K holds, and McDonald participated enthusiastically and frequently. Locally, he serves on the Board of Directors of Farmers Alley Theatre, and regionally, he served on the Southwest Michigan First Education Committee. He served as a member of the Advisory Board of the National Institute for Technology in Liberal Education and served as facilitator for a number of leadership development programs for the Council of Independent Colleges (CIC).