Seven Kalamazoo College representatives, including six from the Class of 2021, are receiving high honors from the federal government that will provide them with international learning opportunities in the upcoming academic year.
The Fulbright U.S. Student Program offers fellowships to graduating seniors, graduate students, young professionals and artists so they may teach English, perform research or study abroad for one academic year.
In some cases, program timing remains up in the air due to lingering issues caused by the COVID-19 pandemic around the world. However, recipients of Fulbright grants are selected as a result of their academic or professional achievement, as well as demonstrated leadership potential in their fields, making the recognition an honor. Here are this year's K-connected recipients.
Helen Pelak '21
Only one person is chosen each year to receive a Fulbright Western Sydney University Award in the Arts, Environment and Public Health. Helen Pelak is thrilled to be that person as it will help her work toward a master's degree in public health and develop a deeper understanding of global health care systems.
Pelak double majored in biology and women, gender and sexuality studies, minored in psychology, and studied abroad in Budapest, Hungary, as a part of the College's program in cognitive science during her years at K.
During her study abroad experience, Pelak developed an infected blister after taking a ropes course and needed to be treated at a hospital, where she was fascinated with the Hungarian health care system.
Global health care systems inspired Pelak to look for opportunities to go abroad again. While she was writing her senior integrated project (SIP) on Cesarean section rates in the United States through a feminist and intersectional lens, Pelak learned about the research of Professor Hannah Dahlen, a midwifery scholar at Western Sydney.
"As part of the application process, Professor Dahlen wrote a letter of research invitation for me," Pelak said. "I expect to further gain a global perspective on health care and health care systems. I also expect to become a more independent and well-rounded individual who is able to incorporate the lessons and experiences from the Australia system of care and way of life to my future work as an obstetrician-gynecologist in the United States."
Katherine Miller-Purrenhage '21
Katherine Miller-Purrenhage, a double major in music and German with a minor in philosophy at K, will serve as an English teaching assistant in Germany at E.T.A Hoffmann-Gymnasium Bamberg and Gymnasium Höchstadt a.d. Aisch, as she splits time between the cities of Bamberg and Höchstadt.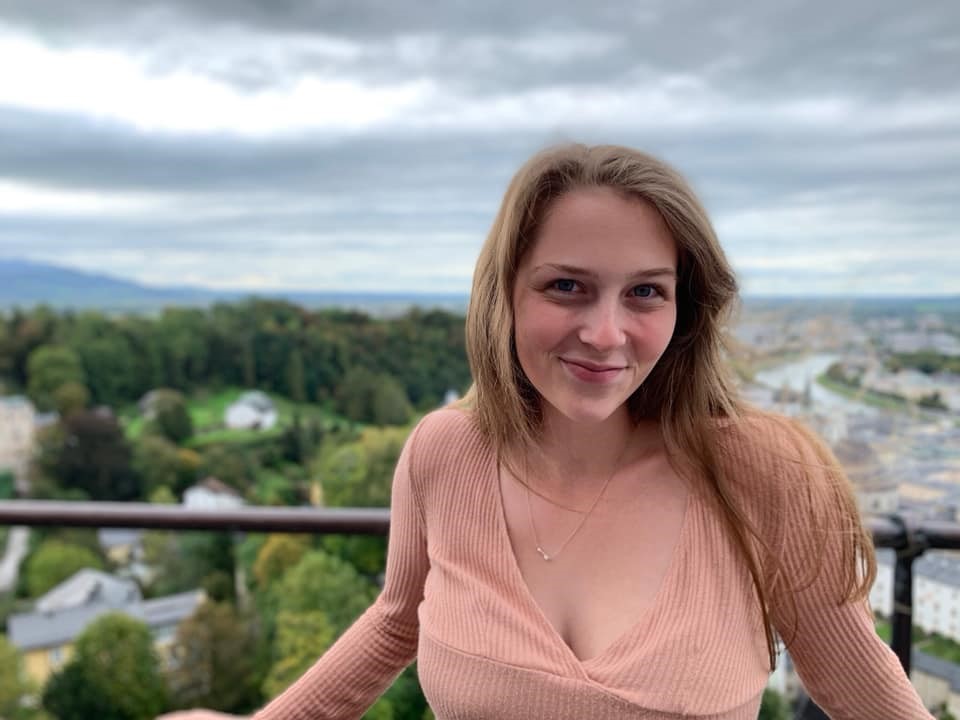 Miller-Purrenhage participated in ensembles such as the Kalamazoo Philharmonia, Academy Street Winds and College Singers. She also was a member of the Delta Phi Alpha National German Honor Society, and served the German department as a teaching assistant during her time at K. Off campus, she volunteered with El Concilio, a nonprofit organization that advocates for the Latinx community in greater Kalamazoo.
Her study abroad experiences in Erlangen, Germany, piqued her interest in the Fulbright program as she interned at a German middle school where she helped teach in the German as a Second Language and English classrooms.
"I loved teaching and learning about educational spaces that ought to be uplifting, and what I as an educator could do to make them that way so every student felt included and celebrated," Miller-Purrenhage said. "I expect this experience will be very different than when I studied abroad because I'll be able to focus more on bonding with my community. This will benefit me as I learn to grow and better participate in cultural exchange while immersing myself in the German language again."
Sophia Goebel '21
Sophia Goebel, a critical ethnic studies and political science double major at K, will be an English teaching assistant at the University of Malaga in Spain. There, she will continue building the teaching skills she established on study abroad in Oaxaca, Mexico, where she developed and facilitated an expressive-arts workshop to explore the topic of communal territories with students from San Martín Huamelulpan, an indigenous community.
"I loved being able to connect with the participants in Oaxaca and learning alongside them," Goebel said. "I spent some time assisting in their English lessons and it was so much fun to think about my language from the perspective of a language learner and brainstorm how best to teach them pronunciation or vocabulary. In turn, they helped teach me Spanish. That inspired me to try to spend more time in an intercultural, interlingual type of learning space through Fulbright, and I also wanted to spend more time exploring the role of teacher.
"I hope to build a lot of new relationships and figure out how to establish a life for myself without the crutch of my school community," she added. "I'm excited to learn more about who I am outside of being a student. I aim to continue learning about pedagogy, something we explored a lot at the writing center, and developing as a teacher, facilitator and mentor. ​I'm also really trying to improve my Spanish. I'm very excited to learn more about the history and culture of Spain, especially after learning a little bit about the country's politics this past year in a course at K. I hope to develop a more compassionate view of U.S. culture and identify elements that are meaningful and important to me, something which I anticipate will be somewhat of a challenge."
Molly Roberts '21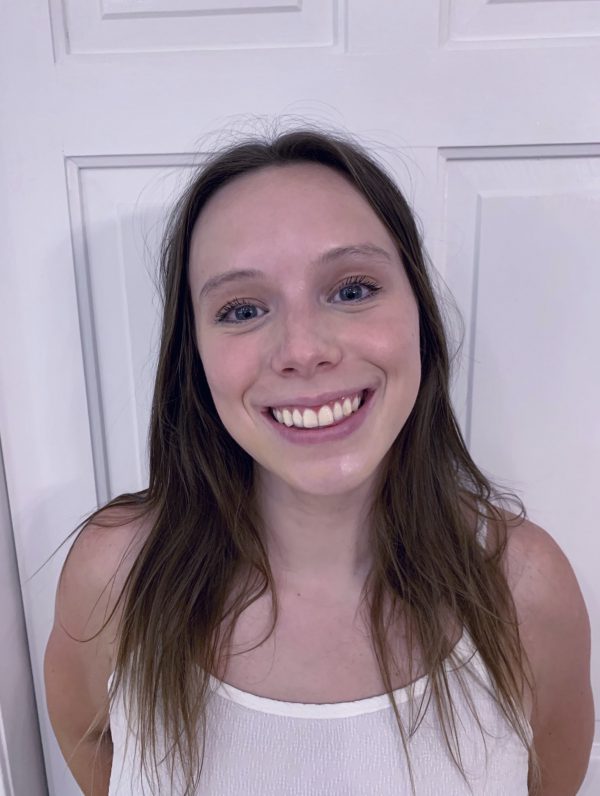 Molly Roberts, a French and psychology double major at K, had the misfortune of missing out on two opportunities to study abroad. First, she was the only applicant interested in a spring short-term experience in Strasbourg, France, during her sophomore year, forcing the trip's cancellation. Then, COVID-19 spread across the world during her junior year.
"I still yearned to be immersed in the French language and culture," Roberts said. "In addition, graduate school is something that I've been interested in pursuing for a while. When I found a master's degree program with an adviser, Dr. Fabien D'Hondt, who shared similar passions to me and had a research project in the field of neuroscience focusing on PTSD, a Fulbright scholarship seemed like the next logical step in my career path."
Roberts expects her education to benefit from her research opportunities in France, but she'll also be working for the Centre Nationale de Ressources et de Résilience (CN2R), an organization that takes current PTSD-focused research and puts it into practice to hep trauma survivors.
"This groundbreaking, accessible research-to-practice approach is what I expect to bring back with me to the States," she said.
Margaret Totten '21
As a Fulbright honoree, Margaret Totten will serve as an English teaching assistant in Thailand, a place she knows well from her time on study abroad in Chiang Mai, Thailand.
"I had hoped to return to continue learning about Thai language, culture and the natural environment," said Totten, who had a computer science major, a math minor and an environmental studies concentration at K. "One of my major goals is to improve my Thai speaking skills and form meaningful relationships with people in my host community."
Nina Szalkiewicz '21
Nina Szalkiewicz, a business major and German minor at K, will follow in the footsteps of Georgie Andrews '20, who served this past academic year as an English teaching assistant in Austria through Fulbright.
Szalkiewicz first went abroad through K when she spent six months in Bonn, Germany, leading to what she called her wonderful and surprising experiences studying German, thereby creating her interest in Fulbright.
"By pushing my boundaries and opening myself up to new cultures and customs, I grew tremendously as an individual which has changed my perspective toward my life," Szalkiewicz said. "I began considering Fulbright more intently after reflecting on my Intercultural Research Project (ICRP) at the Friedrich-Ebert-Gymnasium. Much to my surprise, teaching and mentoring at this German middle school was one of my most enjoyable endeavors and something I gained the most from."
Evelyn Rosero '13
Evelyn Rosero was a human development and social relations major at K, leading to two years of volunteer work in Detroit with Teach for America, a nonprofit organization that finds teachers for low-income schools. Now, she's a teacher in East Los Angeles, California, who wants to gain a global perspective on education while serving Fulbright as an English teaching assistant in South Korea.
On a personal note, she's happy South Korea is her assigned destination because she's a big fan of the South Korean boy band BTS and hopes to see one of their concerts. However, her primary goals are professional and developed with a philanthropic heart. She wants to find connections between Korean students' identities and English-language content; share her American identity to engage in dialogue; continue learning Korean to empathize better with her students; and grow beyond her personal comfort zones.
"I am really excited to partake in this experience, especially as an educator," Rosero said. "Even though I have been teaching for eight years, there is still so much to learn. As a foreigner, I will educate myself on my students' Korean background and the community in which they reside."
About the Fulbright U.S. Student Program
Since 1946, the Fulbright Program has provided more than 380,000 participants, chosen for their academic merit and leadership potential, with opportunities to exchange ideas and contribute to solutions to shared international concerns. More than 1,900 U.S. students, artists and young professionals in more than 100 fields of study are offered Fulbright Program grants to study, teach English and conduct research in more than 140 countries throughout the world each year. In addition, about 4,000 foreign Fulbright students and scholars come to the United States annually to study, lecture, conduct research and teach foreign languages.
For more information about the Fulbright U.S. Student Program, visit its website.