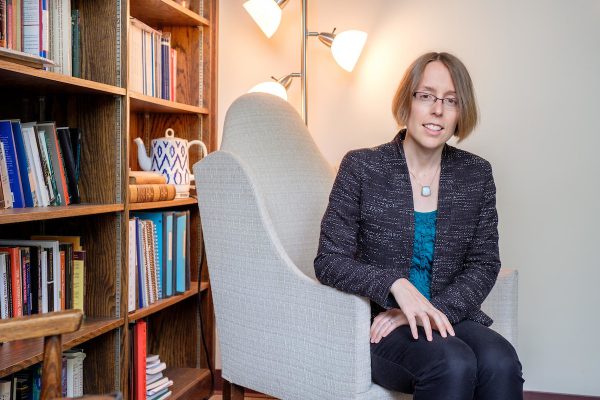 Historians and advanced college classes soon will be reading a new book by Christina Carroll, an assistant professor of history at Kalamazoo College.
The Politics of Imperial Memory in France, 1850–1900 examines how the memory of European imperial conquest under Emperor Napoleon Bonaparte shaped French debates over colonial expansion during the second half of the 19th century, and explains how and why French Republicans embraced colonial conquest as a central part of their political platform.
The book, released last week by Cornell University Press, explores the meaning and value of "empire" in 19th-century France. For much of the period examined, French writers and politicians didn't differentiate between continental and colonial empire. However, by employing a range of sources, from newspapers and pamphlets to textbooks and novels, Carroll demonstrates that the memory of older continental imperial models shaped French understandings of and justifications for a newer colonial empire. She shows that the slow differentiation between the two types of empire emerged because of a politicized campaign led by colonial advocates who sought to defend overseas expansion against their opponents. This new model of colonial empire was shaped by influences such as political conflict, international competition, racial science, and French experiences in the colonies.
"I've always been interested in this question of how different people define empire, which is one of the questions that's really at the center of the book," Carroll said. "For me, that interest dates back to some of the arguments circulating in the early 2000s about whether the U.S. war in Iraq should be seen through an imperial framework, and about how we think about empire in the context of the present day. Like their 21st century American counterparts, 19th-century French republicans were reluctant to describe France as an empire—a term that they negatively associated with both Napoleon and his nephew Napoleon III—but at the same time, they were deeply committed to colonial expansion. So they were trying to differentiate between different imperial structures to argue that even though Napoleonic empire was autocratic and violent and problematic, republican colonial empire was not. They used this rhetoric to try to efface the inherent violence of the colonial project."
Carroll, who holds a master's degree and a Ph.D. in history from the University of North Carolina and a bachelor's degree with honors in history and English from Vassar College, is beginning a second book project, which focuses on historical figures who were transported from one colony to another, or from the French metropole to a colony, for political crimes. It will examine deportation and carceral institutions and how they intersected with imperial structures. In the meantime, she will be a guest on literature and history-focused podcasts while copies of her first book reach reviewers across the country.
"My hope would be that this book would speak to my students and that it would resonate with themes we've discussed in class, especially for upper-level students who've taken some of my courses on imperialism," Carroll said. "I hope that they would find it interesting and accessible. We spend so long as historians in the archives working through things by ourselves. For me, the book will be a success if readers engage with it and build on its ideas in their own work."