A Kalamazoo College art professor will receive international attention while combating fossil-fuel dependence and climate change as a recipient of a Fulbright award in the 2019-20 academic year.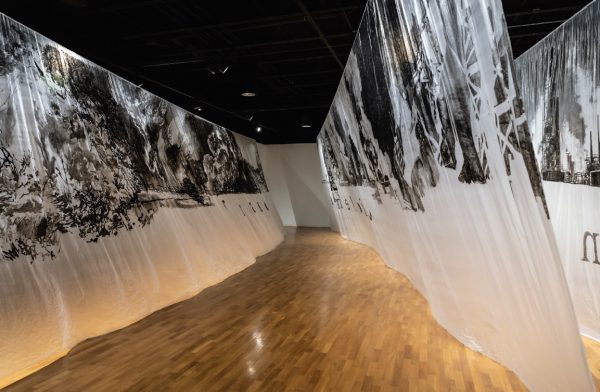 Tom Rice, K's Robert and Jo-Ann Stewart professor of art in the Art and Art History Department, has received a Fulbright U.S. Scholar Program award in visual arts, allowing him to research the realities of fossil-fuel extraction and create mixed-media art at the University of Alberta in Canada.
His art installation, titled "Shifting Uncertainties: The Land We Live On," is on display through Sept. 20 at the university's Fine Arts Building. The display depicts Rice's concern for the environment, fossil-fuel dependence and the growing global crisis related to climate change. On Sept. 12, Rice will discuss his drawings and installations of the past five years, along with what inspires him to explore environmental issues through art, in a forum at the university.
Rice notes the key question with his work is how we retreat from an industry that is enmeshed into our lives and comprises the foundation of our economy.
"The award is important to me because I will have the chance to exchange ideas with leading artists and scholars doing work on climate justice and petroculture," Rice said. "K's focus on social-justice leadership includes climate justice and the implications for humans and non-human species alike."
Rice is one of more than 800 U.S. citizens who will teach, conduct research or provide expertise abroad for the 2019-20 academic year through the Fulbright U.S. Scholar Program. Fulbright recipients are selected based on their academic and professional achievement, as well as their record of service and demonstrated leadership. The awards are funded through the U.S. Department of State and the J. William Fulbright Foreign Scholarship Board.
The Fulbright Program is the U.S. government's international education-exchange program designed to build connections between U.S. citizens and people from other countries. The program is funded through an annual Congressional appropriation made to the Department of State. Participating governments and host institutions, corporations and foundations around the world also support the program, which operates in more than 160 countries.
Since 1946, the Fulbright Program has given more than 390,000 students, scholars, teachers, artists and professionals in a variety of backgrounds and fields opportunities to study, teach and conduct research, exchange ideas and contribute solutions to international problems.
Fulbright alumni have achieved distinction in many fields, including 59 who have been awarded the Nobel Prize, 84 who have received Pulitzer Prizes, and 37 who have served as a head of state or government.