Students new to Kalamazoo College will take an important first step in connecting with each other and with faculty and staff when the 2019 Summer Common Reading author visits campus on Friday, Sept. 13.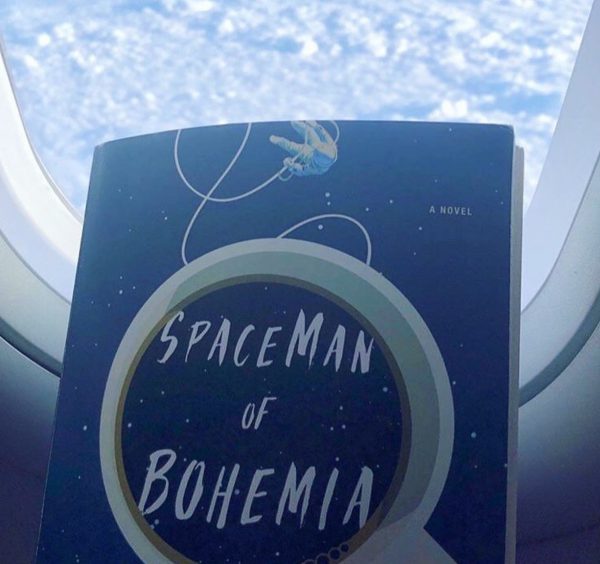 Jaroslav Kalfař, the author of the science-fiction novel Spaceman of Bohemia, will discuss his 2017 book and answer questions from students in a colloquium at Stetson Chapel. Kalfař's appearance will cap the class of 2023's experience with K's Summer Common Reading program which joins the Kalamazoo College community in conversations about their book. Frequently, the author returns in four years to speak at the class's Commencement.
Spaceman of Bohemia tells the story of orphan Jakub Procházka, who becomes Czechoslovakia's first astronaut, after being raised by his grandparents. His dangerous solo mission to Venus offers him a chance to be a hero while atoning for his father's sins as a Communist informer.
As he's alone in space, Jakub befriends a possibly imaginary giant alien spider. The two conduct philosophical conversations about love, life and death, forming an emotional bond, helping Jakub through clashes with Russian rivals in attempting to return to Earth.
Kalfař was born in 1988 in the Czech Republic, moving to the U.S. at age 15. He earned an M.F.A. from New York University, where he was a Goldwater Fellow and a nominee for the first E.L. Doctorow Prize. He is a recipient of the 2018 National Endowment for the Arts Literature Fellowship. Spaceman of Bohemia is his first novel and the book was a finalist for the Center for Fiction First Novel Prize, The Arthur C. Clarke Award Science Fiction Book of the Year and the Dayton Literary Peace Prize.
The Summer Common Reading program is a key component of K's first-year experience program, which ties hands-on experiential learning, advising, first-year forums and seminars, assistance from peer leaders and Residential Life to guide new students through their transition to college.
The first-year experience program helps K students achieve academic success, identify and pursue passions, connect with Kalamazoo College and the greater community, develop intercultural understanding and build a purpose-filled life.