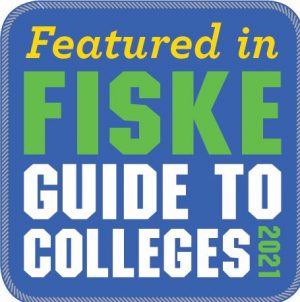 Kalamazoo College's academic and experiential excellence again is recognized in the annual Fiske Guide to Colleges, the publisher Sourcebooks has announced.
In the 2021 version, available now, the publication says K students "pursue a liberal arts curriculum that includes language proficiency, a first-year writing seminar, sophomore and senior seminars, as well as a senior individualized project—directed research, a creative piece, or a traditional thesis—basically anything that caps off each student's education in some meaningful way."
In addition to senior individualized projects promoting independent scholarship opportunities, the guide praises other tenets of the K-Plan, the College's four-part, integrated approach to an excellent education, including:
Rigorous academics. The flexibility and rigor of K's curriculum provides students with a customized academic experience.
Experiential education. students connect classroom learning with real-world experience by completing career development internships or externships, participating in civic engagement and service-learning projects, and getting involved in social justice leadership work.
International and intercultural experience. Students choose from 56 study abroad programs in 29 countries across six continents.
The publication, compiled by former New York Times Education Editor Edward B. Fiske, is a selective, subjective and systematic look at more than 300 colleges and universities in the United States, Canada and the UK.
The guide's readers discover the personality of a college based on a broad range of subjects throughout the text including the student body, academics, social life, financial aid, campus setting, housing, food and extracurricular activities.
"K's academic terms may be fast-paced and the workload demanding, but students are given the flexibility to pursue their interests through individualized projects and off-campus exploration," the publication says. "The result, says a senior, is a student body defined by open-minded, global citizens."