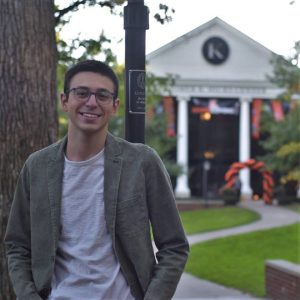 From halfway around the world and without leaving the city, a Kalamazoo College student this spring scrutinized a European nation and one of its policies related to immigration while shaping his own perspectives through a different kind of assignment.
Mihail Naskovski '22, an international student from Skopje in the Republic of North Macedonia, developed a podcast for his Immigration Politics class. In the podcast, he examined the United Kingdom's policy of charging immigrants from outside the European Union a tax that supported the country's National Health System (NHS). To provide a balanced perspective, Naskovski mixed his own words with the voices of British legislators and journalists to examine the treatment of the individuals called "residents."
The debate was exciting for Naskovski to monitor as current events became direct policy that cancelled the tax in May, he said, nurturing his own ideas.
"I wanted to show that there was a difference between being a resident and a citizen and that being a resident most of the time is seen as being attractive and useful," Naskovski said. "But I also wanted to argue that it's not an ideal position; that as a resident, you are exempted of some opportunities, for health care, in this case. Britain was giving an appearance of being very anti-immigrant when that population is essential to the quality of life in Britain."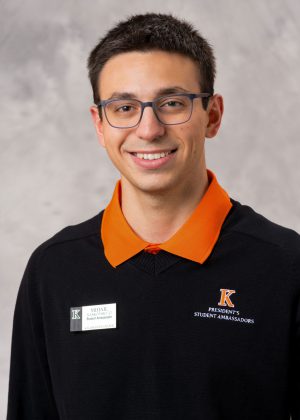 Naskovski reached that conclusion after learning many of the residents entering the UK in recent years from countries such as Bangladesh, Egypt, India, Nigeria and Sudan were doctors and health care workers. In fact, 27 of the first 29 UK health care workers killed by COVID-19 were workers from overseas, he said. As a result, the UK had to wrestle with whether the resident surcharge was ethical or misguided. Was it reasonable to ask health care workers to contribute 200 pounds, 400 pounds or even more to a system they already supported through their profession?
"The most bizarre and tragic perspective of this legislation is that it required all non-EU immigrants working in the NHS to pay the surcharge, a frustrating ignorance by the government that invalidated any efforts by this migrant community," Naskovski said in his podcast, available through K's website.
The tax became even more questionable when the British government considered the families of immigrant health care workers. No one was allowed to defer their payments and the tax was charged per individual, which multiplied the cost significantly for families. For example, a family of four obtaining five years of residency in the UK could've faced taxes that exceeded 8,000 pounds, a cost of more than $10,000 in the US. In addition, more than 100,000 health care workers in the UK are non-EU residents, comprising about 8.3 percent of its health care workforce, including nearly one-quarter of its doctors (24,000) and more than 12 percent (38,000) of its nurses.
"All of these workers had to risk their lives during the most dangerous time of the pandemic and none of them were able to receive support from a government ease of taxation for the public health system they were actually working for," Naskovski said.
Naskovski completed his podcast for Weber Professor of Social Science Amy Elman's course in Immigration Politics, which provides students like Naskovski an introduction to debates over immigration's societal benefits.
She starts by asking her students to examine a person's fundamental right, guaranteed through the United Nations, to leave their native country, without a guaranteed right to enter another country.
"On the one hand you have people making the argument for immigrants that they perform jobs others won't do and provide a base for the welfare state," Elman said. "Then there are the people who say immigration does not benefit citizens who are most economically vulnerable. It's a great opportunity in political science to reflect on and test such pronouncements, especially for students who go on study abroad and will themselves be outsiders."
Without one-on-one, personal interaction available this term, it would have been challenging to help students build their own opinions without some creative ideas for assignments. For Elman, one part of that creativity came in the form of asking students to put together podcasts as Naskovski did.
"The reason I chose podcasts is because they offer some of the most innovative programming through social media," Elman said. "In the absence of dealing one-on-one with each other, anybody can record themselves on their phone if they need to, and I wanted them to pay attention to cadence, to articulate and to be dramatic because this can be a dramatic issue. I want them to communicate at K effectively, and not just through writing."
In his K experience, Naskovski is a double major in economics and international area studies with a concentration in Europe. He also is a civic engagement scholar at Woodward Elementary School in Kalamazoo, and he served as a President's Student Ambassador in the 2019-20 academic year.
Naskovski is already moving forward with the experience gained from this immigration lesson. "It's a contradictory argument to say there is 'us' and 'them' with a productive and passive population," he said. "In reality, immigrants are very much contributing to what the community wants to look like and they want to integrate in the process of becoming a citizen and a full member of that society with full access to health care, voting and other benefits."