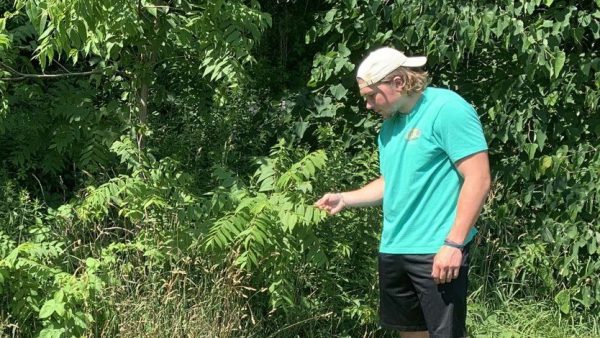 If you're a citizen scientist who would like to help two Kalamazoo College students with their Senior Individualized Projects (SIP), there's an app for that.
Jake Osen and Zach Brazil, both '21, are tabulating deer in Kalamazoo-area neighborhoods and need volunteers to submit pictures through the free mobile app iNaturalist of the deer they find. The pictures will help the students identify where deer populations are reaching problematic levels in local neighborhoods.
When pictures are uploaded, the app helps identify the variety of deer the user has found and pinpoints their location. Osen, Brazil and other scientists then will confirm what the app finds and use the location data to ascertain what's attracting deer to the area.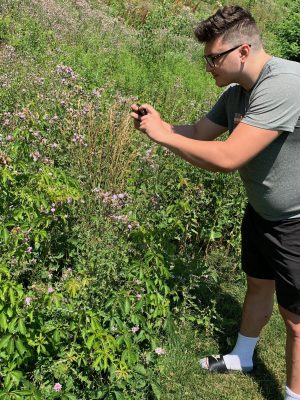 They expect a loss of habitat caused by encroaching neighborhoods to be a primary cause, although others are likely to be contributing factors.
"Some neighborhoods have creeks and parks," Osen said. "Some neighborhoods have residents who feed deer. Once we have a rough estimate of the deer population, we can compare the different areas and see what's bringing deer into the neighborhoods."
Participants can be casual photographers and there's no need for professional-quality images. When asked for tips on photographing deer, Osen and Brazil said it's easiest to find them earlier in the morning or later at night. It can be difficult to maintain complete silence, but deer are a little less skittish in neighborhoods where they typically are near people anyway.
To download the iNaturalist app, go into the App Store (iPhone) or Google Play (Android) on a smartphone and search for iNaturalist. After downloading it, create a free account using an email address, social media account or Google account.
The app will ask to use your location. After confirming permission, use the "Explore" tab to find observations submitted by others. Click the "More" tab and search "Projects" for "Deer populations in the residential areas of Kalamazoo" to volunteer for Osen and Brazil.
After joining, simply upload the pictures of deer you find in Kalamazoo.
"We'd appreciate help from anyone that's able to download the app," Brazil said. "We're hoping to have our observations done by August. We hope to have most of the deer identified in the pictures by mid-August and a first draft of the SIP done by the first or second week of the trimester. But we'd encourage people to keep posting images. The more numbers the better."