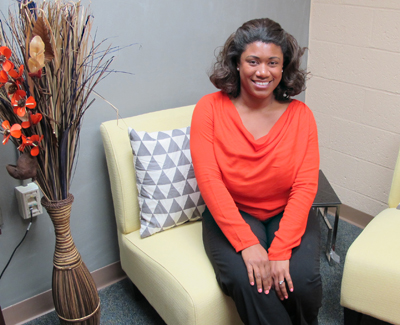 Kalamazoo College Assistant Professor of Psychology Kyla Fletcher has been awarded a grant by the National Institute for Minority Health and Health Disparities (part of the NIH) to study African-American partner relationships and share "what goes right" in terms of daily HIV risk reduction behavior.
The three-year grant ($438,000, making it the largest single-investigator award ever received at Kalamazoo College) is titled "Substance Use and Partner Characteristics in Daily HIV Risk in African Americans." Fletcher hopes to enroll 200 participants in the community-based study. Participants will complete daily surveys for a month (a study approach called "daily diary" that provides more reliable data than do retrospective approaches). Participants also will do confidential in-person interviews in the lab Fletcher has set up in Olds-Upton.
The study will empirically consider the role of partners, specifically relative to managing (one's own and one's partner's) substance use and condom use, and negotiating the knowledge of a partner's HIV status through testing–all behaviors that can be associated with HIV prevention.
"There are relationships where partners talk about these behaviors and negotiate them successfully," says Fletcher. "The study will help us learn how they accomplish that, which may suggest strategies to encourage such engagement and behaviors more widely among intimate partnerships in specific populations."
In addition to setting up the interview lab and a website for the study, Fletcher is working with her newly hired Research Associate (hailing from the greater Kalamazoo area) and her team of six Kalamazoo College students to begin the recruitment phase of the study. "I had an enthusiastic pool of K students," smiles Fletcher. "There is great interest in human sexuality and the influences of community on relationships and the influence of partners in relationships.
"The K students, which include members of every class, bring a diverse set of experiences and new ideas to the study team," adds Fletcher. In return, the students will learn how to think analytically and how to initiate (and collect and analyze data from) a 'daily diary' research protocol, knowledge that would be relevant for graduate study or employment in the field of psychology, according to Fletcher.
She is particularly excited that the work will be community-based. "The grant allows us to build a cohort that is diverse in multiple ways and more reflective of the reality of the community," she explains. "It also obligates us to disseminate the results back to the community and to seek their input on how to communicate those results most effectively."
Fletcher has already enlisted community representatives as advisers. And, she notes, the community-based character of the research is an opportunity for the K students to get off campus and interact with people from whom they differ in a variety of ways and with whom they also share fundamental similarities. The discovery and exploration of distinctions and commonalities can be a valuable learning experience.
This academic year is Fletcher's fourth at Kalamazoo College. She teaches courses in general psychology, adolescent development, research methods, the psychology of the African-American experience, and the psychology of sexuality.
She earned her bachelor's degree from Howard University (Washington, D.C.) and her Ph.D. from the University of Michigan-Ann Arbor. In grad school she focused on developmental psychology with an emphasis on sexual socialization, and she did post-doctoral work at U of M's Substance Abuse Research Center.
"It's in the nature of human relationship development that partners tend to meld into one another, adopt each other's interests and give greater consideration of a partner's desires," says Fletcher. "How partners influence behaviors related to substance use, sexual risk and HIV prevention is a key question of this study. What strengths in relationships work toward healthy outcomes, and can these strengths be applied more widely?"
"It's exciting work," concludes Fletcher, "and could be part of a cultural shift—a needed shift, in my opinion—from a deficit-based view to a strength-based view of sexuality and health."