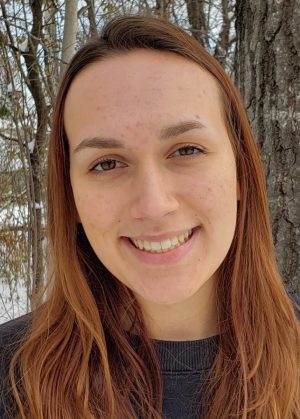 Kaitlyn Dexter '22 has fond childhood memories of going to the polls with her dad on past election days in Duluth, Minnesota. She would even get a chance to fill out a children's sample ballot and receive an "I voted" sticker.
"Voting was always a normal thing to me," she said. "Then I remember having our first Black president. That was a big deal to me even though I was only about 8 years old. Then we had a woman on a major ticket. These were important steps that developed my interest in politics."
Fast forward to 2020 and Dexter, a junior at Kalamazoo College, continues building on that interest while empowering others to vote. She's a political science major and worked this term as a virtual engagement assistant for K Votes, a non-partisan coalition that informs students, faculty and staff about participating in elections. Also, in prior years, she was a volunteer for K Votes.
Dexter credits people such as Emily Kowey '17, who oversees K Votes for the College's Center for Civic Engagement, and her fellow students for boosting voter participation at K.
"We know that voting is not the only way to get things done but it is a really important way," Dexter said. "I think that we've done a good job making it more accessible, especially for students."
As a result, when Dexter set her sights on securing an internship recently, she approached the City of Duluth about possible roles she could play related to the presidential election.
"When I talked to them, they didn't have an internship set up, and they weren't sure they wanted to take the time to do so," Dexter said. "Then, the pandemic hit."
The pandemic left Duluth, a city of more than 85,000 people and about 50,000 registered voters, with no doubt that it would need help managing requests for absentee ballots and handling the ballots themselves. Plus, Dexter knew she would be in her hometown as absentee ballots were received and on November 3 for the general election with the fall term at K being virtual.
Dexter and Duluth city officials sensed an opportunity.
"I think they saw that it would be helpful for them to have another person and then helpful for me to have firsthand experience," Dexter said.
Ultimately, Dexter spent six to seven hours a day sending out thousands of packets that allowed registered voters to apply for an absentee ballot. After Duluth received about 26,000 absentee ballot requests, she helped respond to the demand by mailing the ballots themselves. Receiving them back involved checking numbers and signatures on personal identification envelopes.
Two weeks before the election, Minnesota officials could start counting ballots. At that time and through Election Day, Dexter helped open the ballots and send them to the St. Louis County Courthouse, where votes officially were counted. This made her an important part of the 2020 presidential election for the people of her hometown. Now, as states certify their election results, remember the village of employees and volunteers—including Dexter—who braved the pandemic's dangers to ensure each vote would be counted.
"When the pandemic hit, I didn't want to put myself at risk, but I wanted to do as much as I could to help," Dexter said. "I knew that at City Hall they would have COVID-19 restrictions and social distancing, so this was a way to safely help. It was the best way that I could make a difference.
"Voting is an avenue we have to make things better in society. It was exciting to see the inside of what goes on in the government at the local level and witness the process."