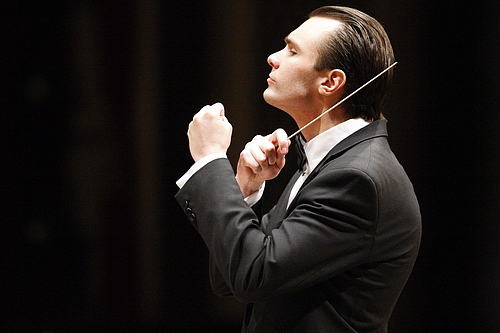 Two Kalamazoo College music faculty members are being honored with top awards for their contributions to the city's arts scene.
Andrew Koehler, the Music Department chair and director of the Kalamazoo Philharmonia; and Tom Evans, a music professor and K's director of bands, will receive the Community Medal of Arts from the Arts Council of Greater Kalamazoo.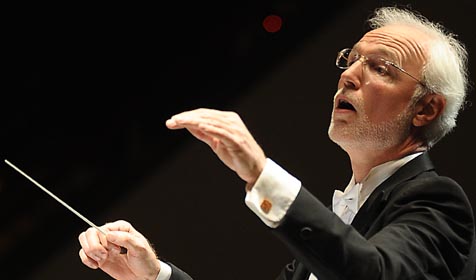 The organization promotes and supports the arts, arts organizations, and artists throughout greater Kalamazoo.
The Community Medal of Arts recognizes artists who are leaders in their field, have significant creative activity, have received local or national acclaim, and have impacted the community through art. It encompasses all art forms, including but not limited to visual, musical, theatrical, literary, performing, multimedia, architecture and design. The organization will present their awards to Koehler and Evans at 5:30 p.m. December 1 at the Wellspring Theater during the Arts Council's annual meeting.
Both said the award is special for them for the honor it bestows.
"When I first arrived in Kalamazoo, I confess I had little inkling about the richness, the vibrancy of this arts community," Koehler said. "In the years since, of course, I've come to fully appreciate just how special Kalamazoo is in this regard, and to be recognized as part of that artistic tapestry—to have my work validated by many wonderful collaborators, to be nominated by my generous predecessor at K, Barry Ross, himself a laureate of the award—is a profound honor, one that will stay with me for the rest of my career."
"I am honored, humbled, and especially grateful to be a recipient of this year's Community Medal of Arts Award," Evans said. "It is an even greater honor to be included among the previous award winners, many of whom have been colleagues and collaborators at one time or another. I've long believed in the importance of giving back to the communities in which we live. If each us were to give back in whatever way we can, then each of those communities would be all the richer. I would like to believe that my musical contributions to the greater Kalamazoo area have, in some small way, fulfilled that promise."
This distinction is also special because they're earning it at the same time, yet through their own accords.
"What I have always loved about K is that we do not silo ourselves—neither from colleagues and students in other disciplines, nor from the wonderful city with which we share our name," Koehler said. "Each of us in K's Music Department is engaged in a meaningful way with other artistic organizations in town. And so to share this honor with my good friend and colleague only sweetens the experience, and confirms the multi-faceted richness of the larger arts community we both love so much."
"I must say how incredibly pleased I am to receive this award alongside my colleague and friend, Andrew Koehler," Evans said. "I hold him in the highest regard and have the utmost degree of respect for his consummate skills as a musician, conductor, lecturer and collaborator. Receiving this award alongside Andrew adds to my already overflowing joy and gratitude."
Koehler and Evans are among nine individuals and two organizations receiving awards from the Arts Council of Greater Kalamazoo this year. For a full list of the honorees and the awards, visit the council's website.