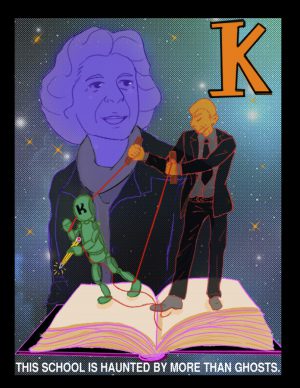 A Festival Playhouse production written over the past two years by Kalamazoo College students is challenging administrators and faculty to better fight institutional racism, and students to consider their own biases.
In the play, simply titled K, Aija Turner '23 portrays Juanita, a student who encounters the ghosts of former Kalamazoo College President Weimer K. Hicks, played by Isaac Presberg '24, and Festival Playhouse Founder Nelda K. Balch, played by Claire de Vries '24.
The dialogue, presented in virtual conversations, shows how the College's policies and historical events are still leading to friction between students, and injustice on campus through issues the institution never publicized, examined or resolved, especially as K's faculty demographics don't match the diversity of its students.
The play was written with Jens Rasmussen of the Bechdel Project providing exploratory scenarios, Emilio Rodriguez of the Black and Brown Theatre Company providing guidance and sustaining support, and dramaturgy provided by Visiting Assistant Professor of Theatre Arts "C" Heaps. Visiting Assistant Professor of Theatre Arts Lori Sands served as the costume designer.
Watch K at any time through Vimeo. Stay online after the play for a discussion with some of the writers and actors. Read the online program, assembled by Rebecca Chan '22, at the Festival Playhouse website.