UPDATE: A chance of rain is pushing Convocation indoors this afternoon, Sept. 6. Join us in the gymnasium at Anderson Athletics Center.
Kalamazoo College will begin the 2017-18 academic year at 3 p.m. Wednesday, Sept. 6, with its annual Convocation ceremony for new students.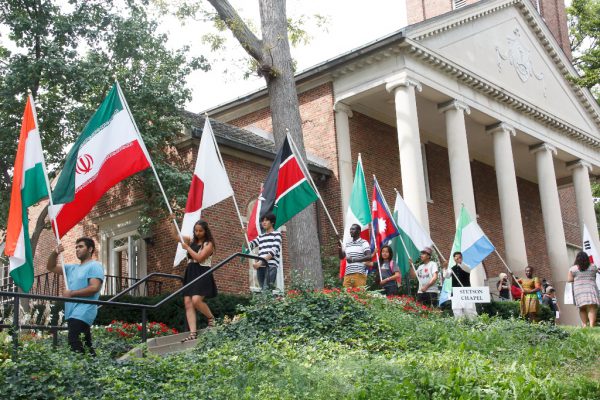 K will welcome 455 first-year students including 13 transfer students and 21 visiting international students at Convocation. New students come from 28 states including California, Texas, Illinois and New York, and 13 countries including Vietnam, China, Jamaica and Greece. Students of color from the U.S. make up more than 35 percent of the incoming class. Twenty percent of the incoming class will be the first in their families to attend college.
President Jorge G. Gonzalez, Provost Michael McDonald, Vice President for Student Development and Dean of Students Sarah Westfall, Chaplain Elizabeth Candido '00, faculty, staff and student leaders will welcome new students and their families. Convocation will conclude with new students signing the Matriculation Book.
Erin Mazzoni '07, the president of K's Alumni Association Executive Board, will deliver the keynote address. At K, Mazzoni was an economics and business major with an environmental studies concentration. She played on the women's tennis team and served as its captain. Her study abroad experience was at the London School of Economics.
Life after K has taken Mazzoni to London, New York and Washington, D.C., to pursue a career in finance. Through connections and friendships built with alumni while a student at K, Mazzoni joined the high-yield research group at Jefferies & Co. shortly after graduating. She next worked within the corporate finance team at Tory Burch, also supporting the Tory Burch Foundation, which promotes female entrepreneurship.
Mazzoni currently works at Under Armour in Baltimore, supporting the company's product and merchandising teams. She also serves as a member of K's Board of Trustees.