Michiganders' lone opportunity to participate in an international event and learn the ropes of change ringing will be at Kalamazoo College. K will welcome the public into Stetson Chapel to see a demonstration of English change ringing on tower and hand bells by members of the Kalamazoo College Guild of Change Ringers at 2 p.m. Sunday, Sept. 10.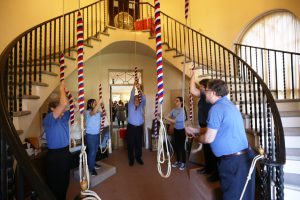 The event, coordinated with similar events at some of the 50 towers in the United States and Canada through the North American Guild of Change Ringers, will include an explanation of change ringing and the history of K's chapel bells. Change ringing provides mild aerobic activity and intellectual challenges. After several weeks of lessons and commitment to regular practice, almost anyone can become a ringer. This open day will provide those interested an introduction to a hobby with endless fascination and continuing challenges. All ages are welcome; minors must be accompanied by an adult.
In change ringing, bells are rung one after another in continuously changing sequences determined by mathematical rules, producing a cascading sound rather than traditional tunes. K's change-ringing bells are the only ones of their kind in Michigan.
The tower at Stetson Chapel was empty for its first half-century. Professor Emeritus of Mathematics T. Jefferson Smith first had the idea that it might house a set of change ringing bells after learning to ring at the National Cathedral in Washington, D.C. After a study to determine whether the tower could withstand eight swinging bells weighing several hundred pounds each, college trustee Maynard Conrad raised funds to buy and install the bells. In 1983, the College's sesquicentennial, President David Breneman gave the project the final go-ahead. The bells were cast at Whitechapel Bell Foundry in London and installed June 2, 1984, at K.
Each bell bears the college motto – Lux Esto, meaning "Be Light" – and is inscribed with a Biblical quotation and the name of a person associated with the college during its first century. Many people have learned to ring at K including students, faculty, staff, alumni and area residents. Stetson Chapel has been the site of many change ringing firsts and records, including the longest continuous ringing, or peal, in North America.
For more information on the event, contact Margaret Miller at 269-365-2823 or kzooringers@yahoo.com.