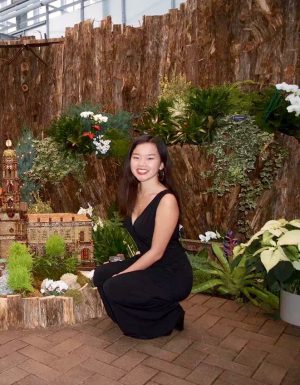 "Pleasant surprise" and "final exams" rarely are uttered in the same breath even at Kalamazoo College. Yet Kimberly Yang '19, of Grand Rapids, Mich., received welcome news around finals time this past spring.
Yang first was placed on a waiting list in mid-April after applying for a Boren Scholarship, a prestigious grant that allows students to study abroad in geographic areas, languages and fields deemed critical to U.S. national security. Then, a congratulatory email came at the end of May, sparking her plans to spend a term in Beijing this fall before returning to the U.S. in March. She has received a scholarship and will study at Capital Normal University.
Yang, an economics and political science major and Chinese minor, departs for China in less than a week. She said the trip will provide her with international experiences representing the U.S. while living abroad in a capital city.
Boren Scholarship winners commit to U.S. federal service for at least a year after they graduate. Yang said she hopes to serve in a role in environmental relations.
"With the United States pulling out of the Paris Climate Accord, China ironically is the leading proponent in the effort to reverse climate change," she said, noting how China's urban development affects the environment. "I want to pursue a career with the environment in China, especially with the demolition and fast-paced construction the country has been witnessing."
Yang was born in Texas, but spent most of her high school years in Shanghai. She ultimately chose K for college because its small size seemed less intimidating as she was reacclimating to the United States. Last year, Yang served as the vice president of the Asian Pacific Islander Student Association at K. She also has served the campus as a student representative to Teach for America, a professional corps of leaders who commit to teaching in low-income schools and work to increase their students' opportunities.
Yang joins Ihechi Ezuruonye '19, of Southfield, Mich., and Molly Brueger '19, of Arlington, Va., as the Boren winners from K in 2017-18. Ezuruonye and Brueger will study in Japan. Boren Awards are worth up to $20,000 depending on the student's financial need and how long the student stays overseas. The grants are funded by the federal government through the National Security Education Program.
Boren Awards are named after former U.S. Sen. David L. Boren, the principal author of the legislation that created the National Security Education Program. Boren Scholars (undergrads) and Fellows (graduate students) study in countries throughout Africa, Asia, Central and Eastern Europe, Eurasia, Latin America and the Middle East.