For the first time since 2019, Kalamazoo College's Commencement is returning to the campus Quad at 10 a.m. Sunday, June 12, with more than 350 students receiving their bachelor's degrees. Here's what you need to know about the weekend's events surrounding Commencement and the ceremony itself.
Rehearsal
Seniors are required to attend Commencement rehearsal at 4 p.m. Thursday, June 9, at Dalton Theatre. Faculty and staff will provide graduating seniors with pertinent information including what to do during an intricate line-up and processional. Students who need to be excused from rehearsal should contact the Office of Alumni Engagement in advance at alumni@kzoo.edu.
Commencement Saturday
Receptions for individual departments help families meet professors and see individual projects from selected seniors. Consult the department schedules for information on the time and location for each event.
The day's remaining events—including the Senior Awards Program, the Senior Music Recital and the Baccalaureate—will take place at Stetson Chapel. A livestream will be available for each of those events for those who can't attend in person.
Seniors receiving awards will get an invitation from the Provost's Office after finals to attend the Senior Awards Program, which begins at 2:30 p.m. Contact the Office of the Provost by email if you have questions about the event. The Senior Music Recital is a public concert at 4:30 p.m. featuring performances by graduating seniors who have been involved in music. All seniors and guests are invited to attend. The Baccalaureate is a public non-religious service with student and faculty speakers and musical performances beginning at 8 p.m.
An information desk will be staffed from 9 a.m. to 5 p.m. in the atrium at Hicks Student Center. The College's bookstore will be open from 11 a.m. to 5 p.m.
Before the Ceremony on Sunday
Commencement will take place rain or shine on the Quad. However, if there's heavy rain showers or severe weather, the ceremony may be delayed by up to two hours. Communication about a delay would be sent through K alerts, social media and email no later than 8 a.m. on Sunday. Seniors should arrive no later than 9:30 a.m. Sunday at Dalton Theatre with their caps and gowns. No tickets or rain tickets are required for the ceremony, which will last about two and a half hours. The information desk and College bookstore at Hicks Students Center will open at 8 a.m.
Parking
A limited number of handicapped parking spaces will be available on campus streets and in parking lots. Handicapped spaces are reserved for vehicles with a state-issued permit. With a limited number of spaces, a designated drop-off area will be available on Campus Drive, accessible from Academy Street, in front of Hoben Hall. Families may drop off guests for barrier-free access to the Quad and then find parking elsewhere on campus.
All faculty, staff and student parking lots will be open for public use. Street parking on campus and in surrounding neighborhoods will also be available. Please observe any posted street-parking restrictions and avoid driving or parking on sidewalks or lawns, or next to a building entrance. A printable campus parking map is available.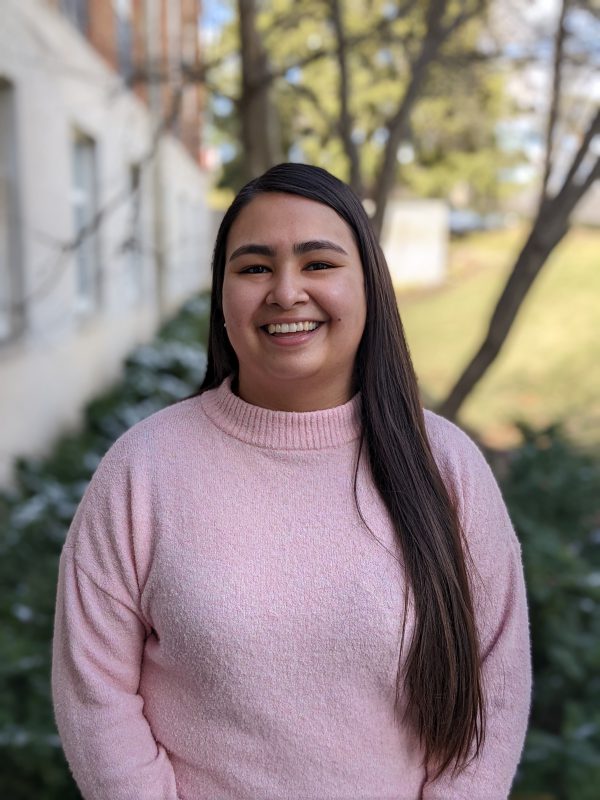 Keynote speaker
Bronson Healthcare President and Chief Executive Officer Bill Manns will address the class of 2022 and receive an Honorary Doctorate of Humane Letters. Manns oversees all Bronson services from primary care to critical care across more than 100 locations.
Before joining Bronson, Manns was the president of St. Joseph Mercy Hospital Ann Arbor and St. Joseph Mercy Livingston from 2018–2020, the president of Mercy Health Saint Mary's Campus in Grand Rapids from 2013–2018, the Alameda Health System chief operating officer (Oakland, California) from 2005–2013, and Ascension Providence Hospital (Southfield, Michigan) chief operations officer and executive vice president from 1996–2005.
Class speaker
Reyna Rodriguez, a chemistry major and psychology minor, has worked for two years as a Civic Engagement Scholar at El Sol Elementary School in Kalamazoo through the Mary Jane Underwood Stryker Center for Civic Engagement. El Sol functions like a magnet school and offers instruction in English and Spanish while accepting students from all areas of Kalamazoo Public Schools. Through El Sol, Rodriguez has recruited, educated, interviewed and submitted background checks on K students, coordinated their schedules with El Sol, and participated in and led structured reflections to help literacy and math tutors along with classroom assistants.
COVID-19 protocols
Given the high vaccination rates between our students, faculty and staff and the low community-spread level in Kalamazoo, K will not require vaccinations to attend Commencement activities and masks are optional, although not required, throughout the weekend. Unvaccinated guests are strongly encouraged to receive a COVID-19 test before arriving. Those who are ill should refrain from attending.
More information
The Office of Alumni Engagement maintains a website that offers more details regarding Commencement including a list of frequently asked questions, dining and lodging information, and ceremony accommodations. For more information, visit the site at commencement.kzoo.edu.