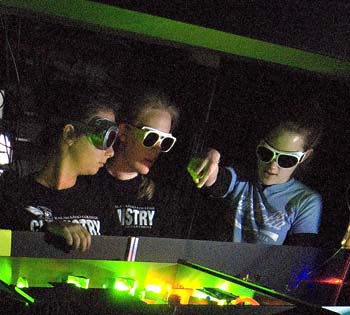 Some chemical reactions are simply impressive—the vibrant flash of light when magnesium is ignited or the blast and subsequent grains of salt that appear after mixing sodium metal and chlorine gas.
Equally impressive is the reaction to the chemistry major at Kalamazoo College in recent years.
Sixty-eight students—41 males and 27 females—declared chemistry as their major at Declaration of Major Day. The annual event, held the fifth week of winter quarter, requires sophomores to declare their majors, minors, and concentrations.
"Fifteen percent of the sophomore class [the class of 2017] chose chemistry," says Laura Lowe Furge, the Roger F. and Harriet G. Varney Professor of Chemistry and current chair of the department. "On a per capita basis, it probably makes K the largest chemistry program in the country."
To accommodate the growth of chemistry majors, a new faculty member will join the department this fall, and additional classes and lab times have been added to the schedule, Furge explains.
"It's a good problem for us to have," she says.
Space, she admits, is an issue as labs and lecture halls in the 23-year-old Dow Science Center were built to house a much smaller student population. In 1998, for example, only six students at K graduated with a chemistry degree.
"We've had to make some allowances," she says. "The hope is to eventually expand the building to provide additional lab space, classrooms, and faculty offices."
While the number of recently declared majors is impressive, it is part of a growing trend. The class of 2016 includes 55 chemistry majors and this year's senior class will graduate 30 students with degrees in chemistry.
According to Greg Slough, professor of chemistry, the faculty has worked to change the perception of difficulty associated with a chemistry major.
"We're making chemistry doable for students," Slough explains. "There is a real student focus among every faculty member. The students know that we're here for them, we're approachable, and we're here to help when the work gets tough."
Professor of Chemistry Jeffrey Bartz adds that the department's deep commitment to evidence-based education has helped it evolve.
"Every class changes, every single year," Bartz explains. "We're not teaching students the same thing, the same way, year after year."
One of those students is Bryan Lara, a sophomore from California, who selected chemistry on Declaration of Major Day.
"Every chemistry professor knows my name," Lara says. "I'm not just a number. There is a real sense of community among the faculty and students."
He adds that extracurricular chemistry activities such as the Dow Open, a miniature golf event held inside the Dow Science Center, the October 23 Mole Day celebration, and the annual Dow-B-Q help keep students engaged and excited about the major.
And if recent years are any indication, this excitement won't be waning anytime soon. (Text by Erin Dominianni '95)