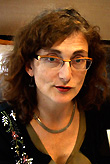 The 2015 Edward Moritz Lecture in History coincides with the 70th anniversary of the liberation of the concentration camps and the end of World War II. The lecture will occur Thursday, April 16, at 7 p.m. in Dewing Hall Room 103. The event is free and open to the public. Professor Doris L. Bergen, Chancellor Rose and Ray Wolfe Professor of Holocaust Studies at the University of Toronto (and one of the world's most distinguished scholars of the Holocaust), will speak on "Holocaust or Genocide? Uniqueness and Universality."
Professor Bergen received her Ph.D. at the University of North Carolina, where she studied with Professor Gerhard Weinberg. Her research focuses on issues of religion, gender, and ethnicity in the Holocaust and World War II and comparatively in other cases of extreme violence. She has written many books including War and Genocide: A Concise History of the Holocaust (2003). The recipient of many honors and awards, Professor Bergen is a member of the Academic Advisory Committee of the Center for Advanced Holocaust Studies at the United States Holocaust Memorial Museum in Washington , D.C.
The annual Edward Moritz Lecture pays tribute to the late Professor Edward Moritz, who taught British and European history at Kalamazoo College from 1955 to 1988 and served for many years as department chair.