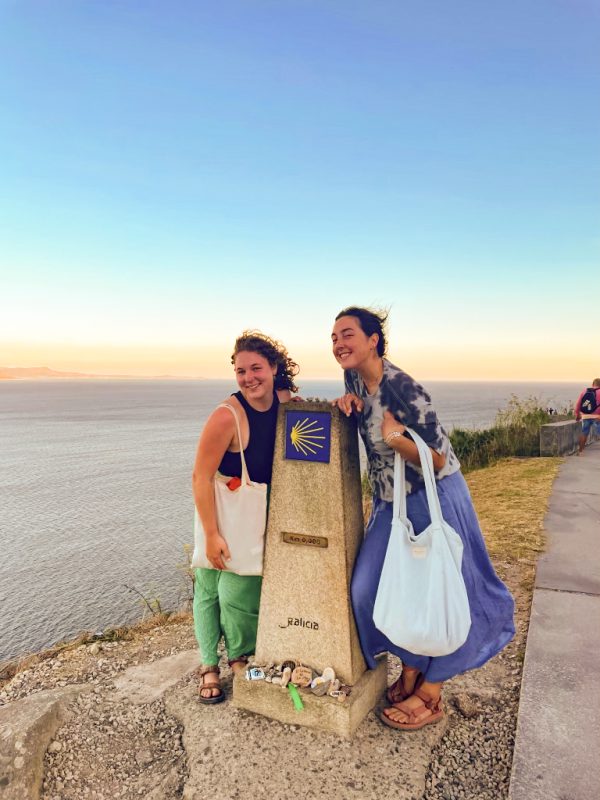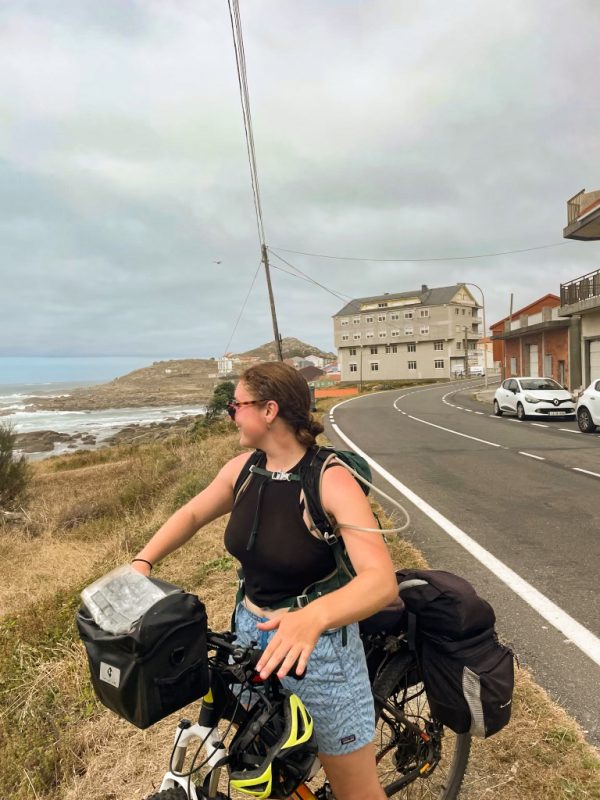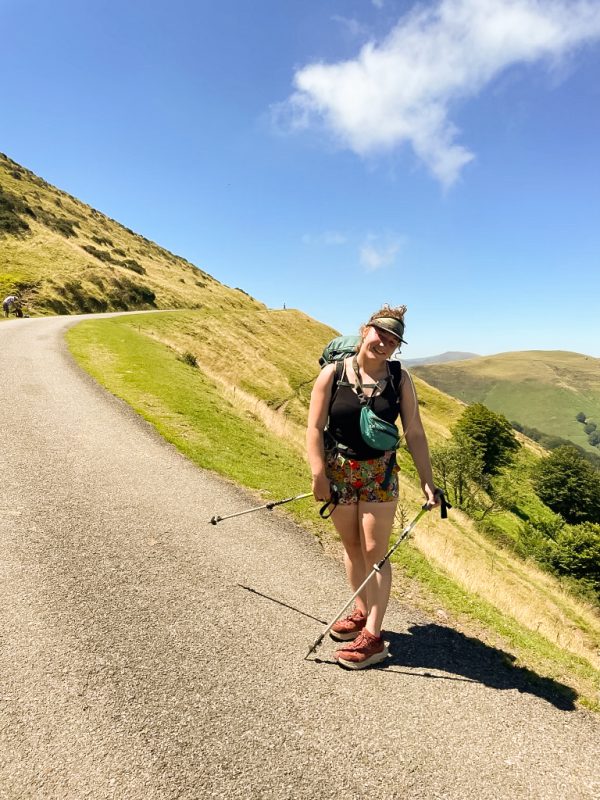 July 2022 was the hottest calendar month in Spain since records were first kept in 1961. It was also the month that Fiona O'Rielly '23 set out on a 500-mile hike across Spain. O'Rielly's sweltering passage along the ancient pilgrimage route Camino de Santiago, and the interviews she conducted with other walkers along the way, formed the basis for her Spanish Senior Integrated Project (SIP), Caminando el Camino: Una experiencia de comunidad.
The SIP process helped O'Rielly reflect and gain perspective on community, solitude and relationships during her last year on the Kalamazoo College campus—which was also her first full year on campus, due to a college experience upended by the COVID-19 pandemic.
O'Rielly wrote her SIP in Spanish and in four parts, focusing on the historical context of the Camino de Santiago, the shift toward more secular pilgrimages and increase in use, the impact of the pandemic on the Camino and on tourism in Spain, and O'Rielly's interview findings and personal reflections.
The Camino de Santiago, or the Way of St. James, is a network of pilgrimage routes leading to the cathedral of Santiago de Compostela in northwest Spain, where tradition holds that the remains of the Biblical apostle St. James the Great are buried. It began in the ninth century and became a major pilgrimage route of medieval Christianity by the 10th century.
Since the 1990s, the Camino de Santiago has regained the popularity it had in the Middle Ages, with hundreds of thousands walking the route each year. Although some of those walkers continue to be religious pilgrims, many now walk for a variety of more secular reasons.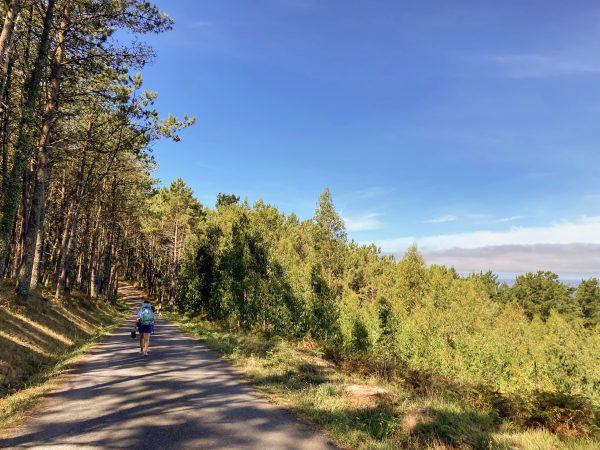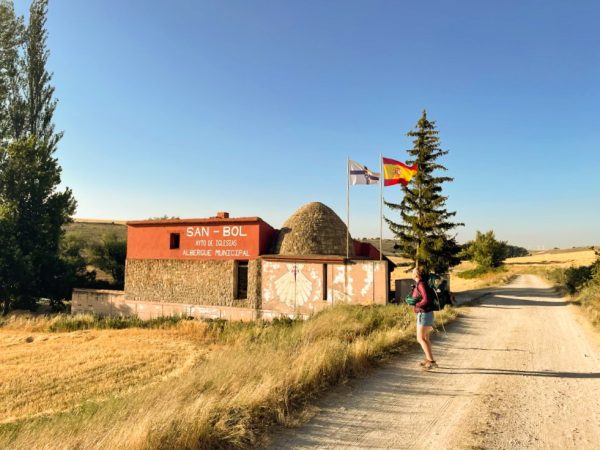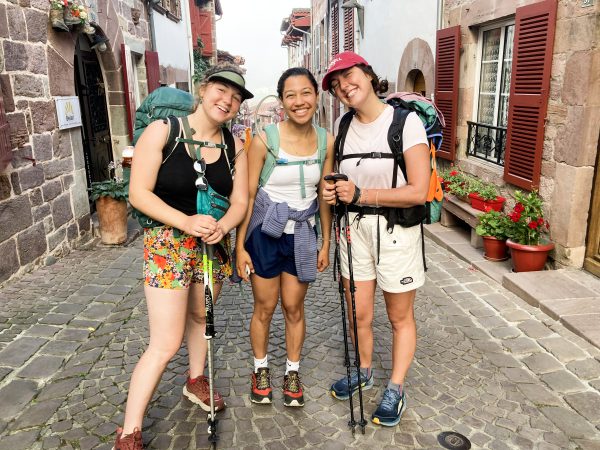 O'Rielly walked the Camino Francés, the most popular route, which stretches about 500 miles, or 800 kilometers, from St. Jean-Pied-du-Port in France to the cathedral in Santiago, in the heat of summer. That July, the average daily high was 85˚F, with the hottest day reaching 106˚F. August wasn't much better, with an average daily high of 81˚F and a peak of 100˚F.
"It was pretty unbearable some days," O'Rielly said. "A lot of the time, the sun was very intense and there wasn't a lot of shade."
She battled heat rash, sunburn, dehydration and blisters, often rising by 4 a.m. to get the day's miles walked before the heat of the day. She carried a backpack with a change of clothes, a sleeping bag liner, a guidebook and lots of water.
During the day, O'Rielly did a lot of solo walking, often starting off with two friends who joined her on the Camino before each settled into their own pace and thoughts. Some days she listened to the sounds of nature; other days, the rhythm of traffic; at times, she plugged into music on her phone, especially a folk band from Ohio called Caamp, which released a new album while she was walking.
The path varies in style and surroundings, ranging from mountainous dirt trail to flat gravel path to narrow road shoulder. Well-marked with yellow arrows, the Camino passes through a range of landscapes as well as many small towns where pilgrims stop at cafes to eat or at albergues (hostels along the route) to stay the night.
In the evenings, O'Rielly would reconnect with her friends and other pilgrims in the towns and albergues along the route. She would also conduct interviews for her SIP.
"I wanted those conversations to happen more organically, and I did talk to people that way, but those conversations specifically for my SIP happened mainly in the albergues, which is the main community aspect of the Camino," O'Rielly said. "A lot of people will walk the whole day alone, and then come together, gather, share a meal, play cards, and get to know other walkers in these hostels."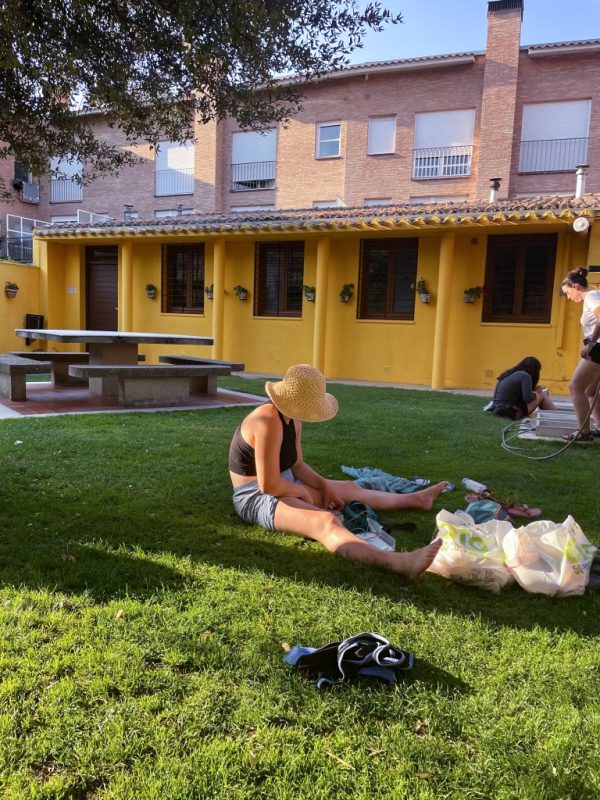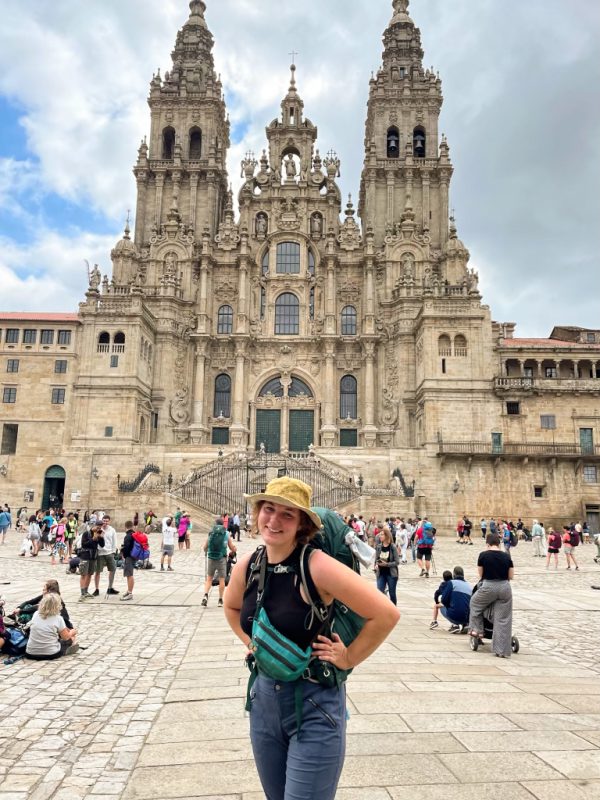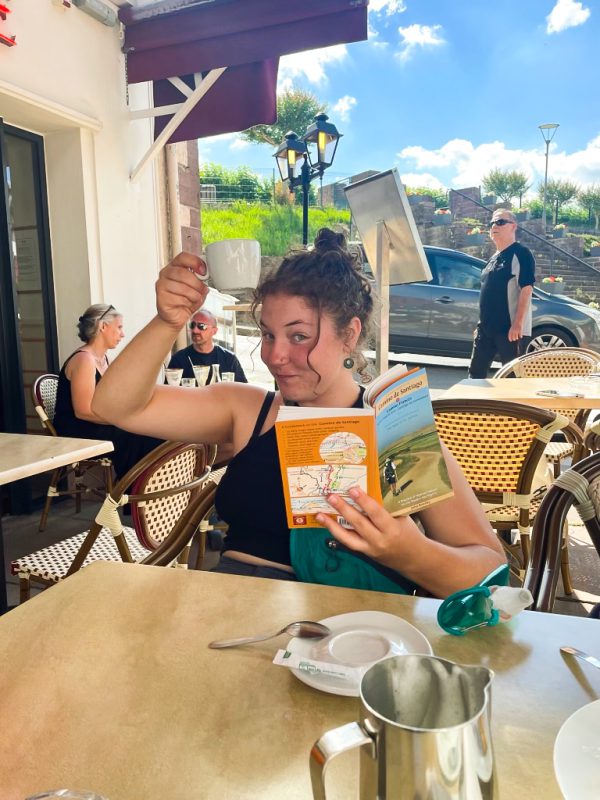 Most pilgrims were open and friendly, willing to be interviewed and to share their stories. O'Rielly ended up interviewing 15 hikers from all over the world, including Spain, the U.S., New Zealand, Ireland and Argentina. She conducted about half the interviews in Spanish, and wrote her SIP in Spanish, which was challenging and important in her Spanish learning progression.
"I wanted to hear a lot of people's stories and I think most people were open with that and happy to talk," she said. "They were also understanding of me as someone who's learning Spanish. When I was having these interviews in Spanish, there were definitely grammatical errors on my part, and people were patient and also excited to share their experiences. Maybe some people saw this as a way for them to take the time and reflect and talk it out as they were having this experience. Everyone was really welcoming."
In her interviews, O'Rielly met pilgrims who chose to walk for religious or spiritual reasons, as part of their struggles with addiction, because they were facing a transition in life, as part of their grieving process and to spread a loved one's ashes, because they felt lost and unsure of their direction, because they wanted to see the country in all its variety, and more.
One big theme that emerged from O'Rielly's interviews was the need for both solitude and community.
"Most people I talked to started the Camino alone," she said. "I remember one in particular who started alone, then met this group on the first day. They would hike alone, then they would all gather and pick the same hostel and cook a meal at the end of the day. Having the time to really be alone with your thoughts and then being able to come together and have that community and those friendships is really special."
Another big theme that resonated personally for O'Rielly was acceptance of relationships that are anchored to a particular time or place.

"I've had a lot of experiences in my life recently of intense times of bonding with people for a short period of time, and then having to walk away from that relationship," O'Rielly said. "It's been hard for me to realize that I can't keep in touch with everyone."
For example, O'Rielly came to Kalamazoo College in fall 2019, where the Ann Arbor native participated in LandSea, joined the swim team, took Spanish classes and built community on the close-knit campus. Then came March 2020, with the COVID-19 pandemic closing the state down and sending O'Rielly and the rest of the campus home. Along with so many others, O'Rielly found herself abruptly removed from the community she had started to establish at K.
Her second year at K, O'Rielly lived in a Kalamazoo apartment with friends, attending classes virtually and rarely venturing outside her COVID bubble.
Then O'Rielly left that community to spend her entire third year of college abroad in Cáceres, Spain. In Cáceres, she first lived with a host family and took classes through the Universidad de Extremadura with about a dozen other K students from September to February. At that point, the other K students returned to Kalamazoo, while O'Rielly stayed behind in Cáceres until June, moving into an apartment with two international students from Italy and taking Universidad classes on her own.
On the Camino, O'Rielly found herself in a similar situation yet again, meeting people in a context of openness and self-discovery, bonding quickly and intensely, then separating, possibly forever. She also found the time and space to reflect on those relationships.
"I remember having this conversation with my friend, and she said something like, 'The relationships I made on the Camino are meant to be left on the Camino. They're not mine to take,'" O'Rielly said. "That was a powerful moment for me, personally, to realize that I've had these beautiful moments and shared these connections with people, and it's temporary, and that's OK. Maybe they'll come back again, and I can be content with these relationships as they are."
Walking the Camino alone gave O'Rielly time to think about the interviews she had conducted, brainstorm the format for her SIP, reflect on her own experiences and what they meant to her, and let her mind wander wherever it happened to go.
"It's really beautiful to have an experience like the Camino and be able to take time to sit with it and reflect on what I gained," O'Rielly said. "In a lot of my experiences, I've just had to move on because I'm back in school or on to the next thing. Having that time benefitted me a lot."
The home stretch of the Camino can bring a bit of culture shock after all that solitude and small community. Church groups and large organizations often walk the last 100 or 200 kilometers, so the quiet Camino becomes a river of people by the time a pilgrim passes through the town of Sarria, especially during the summer peak season.
"How far to walk each day and where to stay each night was very spontaneous until about the last two weeks," O'Rielly said. "In Sarria, you're reaching the last 100 kilometers of the Camino, and that's when the crowds come in. Then I was booking hostels in advance and on more of a schedule."
Between the increasing number of pilgrims, and the bigger size of Santiago de Compostela, the end of the Camino can be jarring for pilgrims who walk the whole route.
"I felt a bit overwhelmed," O'Rielly said.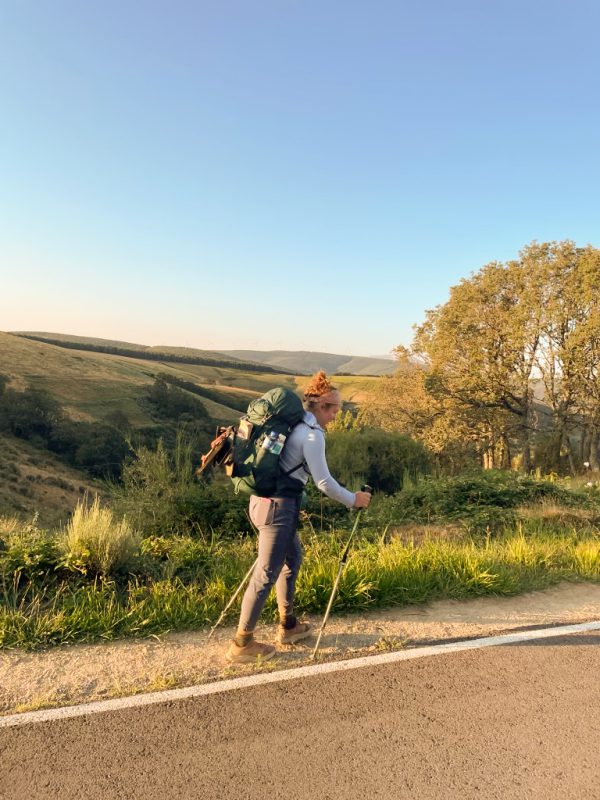 After two nights in Santiago, she struck out again, on a sort of alternate ending to the Camino—about an additional 90 kilometers to Fisterra, or Finisterra, "the end of the world."
Struggling with sore feet and blisters, O'Rielly rented a bike for the Camino Finisterre.
"I thought a bike would be so much easier," O'Rielly said. "I rented panniers to put my stuff in, though, and every time I would go up a hill, the bike would just tip. It ended up being really difficult, and I think walking would have been easier."
Fisterra, however, was worth the extra work, and her three nights there were a satisfying end to her pilgrimage.
"It's this beautiful route along the coast, and you end at the ocean," she said. "It was amazing to swim in the ocean and relax, and I felt a lot more of the community there. I reunited with some people I had met early on the Camino and it was a really special ending point for me."
Now O'Rielly is deep in her last and first full year on the Kalamazoo College campus, done writing her SIP, finishing a major in Spanish with a minor in English following the journalism course sequence. She is grateful for the experiences she has had and the professors, the Hough Foundation SIP Grant and funding from the Center for International Programs that made those opportunities possible.
After graduation, she hopes to return to Spain, possibly through the North American Language and Culture Assistants Program.
"That would be a good way for me to continue speaking Spanish and take some time to reflect on what I would like to study next," O'Rielly said. "There's a lot of different things I'm interested in. I would love to go to graduate school in a Spanish-speaking country, but figuring that out could take some time and I'm not rushed at all for that."
Just like she did on the Camino de Santiago, Fiona O'Rielly will take things one step at a time.