A Kalamazoo College alumna is being honored with a prestigious fellowship that helps people interested in pursuing careers in the foreign service follow a path toward work in the U.S. Agency for International Development (USAID).
Aramide Apo-Oyin '22 will complete graduate school through a Payne Fellowship, named to honor former U.S. Rep. Donald M. Payne, and then work on the front lines of pressing global challenges such as poverty, hunger, injustice, disease, climate change, conflict and violent extremism with USAID.
"I knew that this fellowship was perfect for me because of the partnership with USAID, which does invaluable work around the globe," she said. "The Donald M. Payne Fellowship gives me an opportunity that combines my interest in public health and public service on a global scale."
The Payne Fellowship this year received more than 500 applications and only 30 fellows were selected. Apo-Oyin applied when she recognized the value she could bring to the fellowship, including her own background as a Nigerian American woman and the diverse experiences she had through the liberal arts at K.
"Initially, in college, I was on the pre-health track as a biology major, but I discovered my love of public health and service through my internship with the Advocate Aurora Health Transition Support Program," Apo-Oyin said. "Through this public health internship, I was able to assist people from under-resourced communities in the Chicagoland area to help them overcome barriers to care that they were experiencing. These barriers included finding transportation to their next appointment, applying for Medicaid/Medicare, scheduling follow-up appointments, and educating patients on discharge instructions to reduce their risk of being readmitted to the hospital. In doing this work for over a year my passion for public health and service grew."
Such experiences led Jessica Fowle—K's director of grants, fellowships and research—to see Apo-Oyin as an ideal candidate for a Payne Fellowship as the two worked together throughout the application process.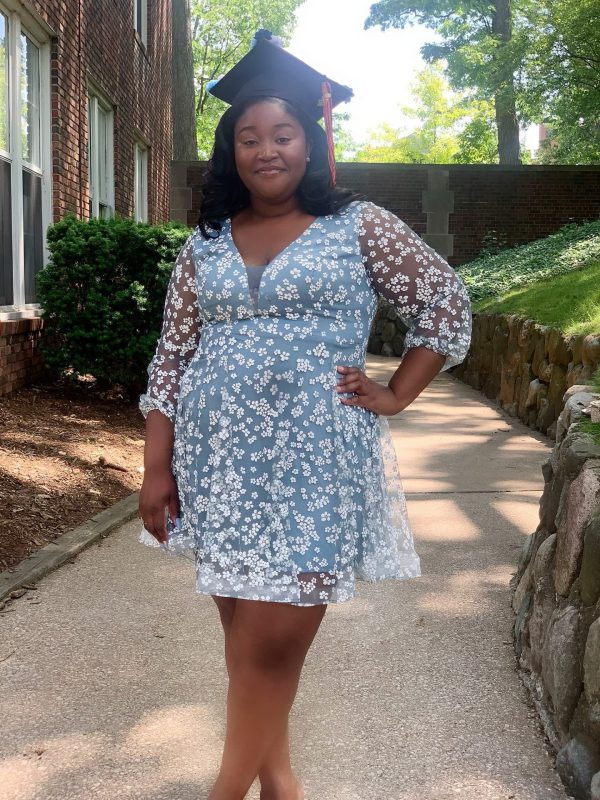 "It was a true joy to work with Aramide as her fellowships advisor on the application process for her Payne Fellowship," Fowle said. "Applying to this type of program requires reflection on and synthesis of scholarship, internships, co-curricular involvement, and life experience—articulating a vision for the future that captures the goal of the program. Aramide took full advantage of the opportunities at Kalamazoo College and is poised to fully engage with the educational and experiential foundations as a Payne Fellow, graduate student, and foreign service officer."
The Payne fellowship provides up to $104,000 over two years toward tuition and fees in completing a master's degree in international development or a related field; room, board, books and education-related expenses; and a stipend for housing, transportation and related expenses for two summer internships. Apo-Oyin is currently deciding which international development program she will be attending later this fall.
Her adventure will begin this spring when Apo-Oyin participates in an orientation at Howard University; there she will become familiar with all the aspects of the fellowship and enhance her understanding of and skills for an international-development career. She then will work in her first internship this summer, tending to international issues at Capitol Hill in Washington, D.C. Her second internship will be overseas on a USAID mission next summer.
All of it represents a challenge Apo-Oyin is happy to accept as she takes her next step toward a career in the foreign service.
"I spent part of my formative years abroad in Nigeria and London," Apo-Oyin said. "It was then that my interest in international work was ignited. Growing up in these places, I could see the difference between high-income and low-income countries. This experience widened my perspective of the world from a young age and planted a seed for my interest in international development. Now, If I have any advice for anyone who is interested in applying for this fellowship or other international affairs fellowships, it would be not to doubt yourself. Trust that your story of who you are and why you're interested in this work is unique to you and it'll only allow you to stand out in this process. Do your best to surround yourself with people who believe in you and trust in yourself."