Alpha Lambda Delta, the National Honor Society for top first-year students, is awarding Kalamazoo College's Guillermo Dominguez-Garcia '18 a Dr. Helen Clarke Graduate Fellowship to continue his studies next school year.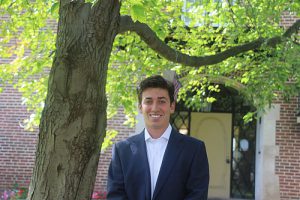 The $3,000 grant will help defray Dominguez-Garcia's expenses as he seeks an advanced degree in public policy. Admitted to Alpha Lambda Delta in 2015, he is studying philosophy and economics at K.
His many activities at K have included playing on the men's tennis team, K to the Big Apple, Launch into Leadership and serving as a consultant at the College's Writing Center and as a class agent for the Class of 2018. Born in Madrid, Spain, he grew up in China, Thailand and South Africa, and now calls Bethesda, Maryland, home. He is fluent in Mandarin, French, Spanish and English.
The grant he is receiving is one of 26 awarded annually for graduate study. It is named for the 10th national president of Alpha Lambda Theta, who served from 1979 to 1982.
Founded in 1924, Alpha Lambda Delta has a presence on over 275 campuses nationwide.