Every year since 2008, Kalamazoo College students have won grants from the Davis Projects for Peace program to carry out efforts to address the root causes of conflict. Still, this year's winner stands out for her anti-violence project. Aisat (pronounced I-ee-sha) Oladokun's grant marks the first time that a first-year student at K has received the award.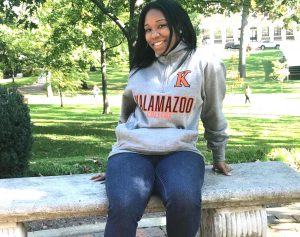 She will get $10,000 for her project, "Thoughts for Peace," this summer in her hometown of Chicago. Her aim is to educate 30 youths, ages 9-15, about resilience during a summer camp in the Chicago neighborhoods most affected by violence.
She will partner with One Solution, a multinational social action group that works in Chicago, Israel and Sweden to end violence. In Chicago, the group says its goal is to provide "an educational intervention to raise the mental immune system of Chicago by catalyzing new thinking."
Despite her youth, Oladokun, who attended the Perspectives Leadership Academy, a college prep charter school in Chicago, has long been involved in global issues and exchanges. She has been the recipient of scholarships and invitations for travel to Panama, Singapore, Australia and Japan for programs that included a robotics competition and the Yale Global Scholars.
Headquartered at Middlebury College in Vermont, The Davis Projects for Peace is an initiative for undergraduates at participating Davis United World College Scholars Program partner schools, including K, that says it aims to "design grassroots projects … which promote peace and address the root causes of conflict among parties." It was created in 2007 with funding from Kathryn W. Davis, a scholar, author, world traveler and philanthropist who endowed the grants as a way of celebrating her 100th birthday. Davis, who died at age 106 in 2013, was the mother of Shelby M.C. Davis, whose family funds the Davis Scholars Program.
Other Kalamazoo College student initiatives funded through the program have included "Nets for Prevention and Peace," which in 2007 distributed anti-malaria mosquito nets in Myanmar where internal displacement of people along the Thai border had sparked violence; "Umeed Ki Kiran" a literacy promotion project in Pakistan in 2014; "Humans Beyond Boxes," a 2015 effort to help former prisoners in Kalamazoo shed the stigma of incarceration; and "Back to the Source: A Hip-Hop Inspired Agricultural Revolution" that in 2017 borrowed the community orientation of hip-hop music pioneers to establish a sustainable farm for young people in Uganda and market their produce.