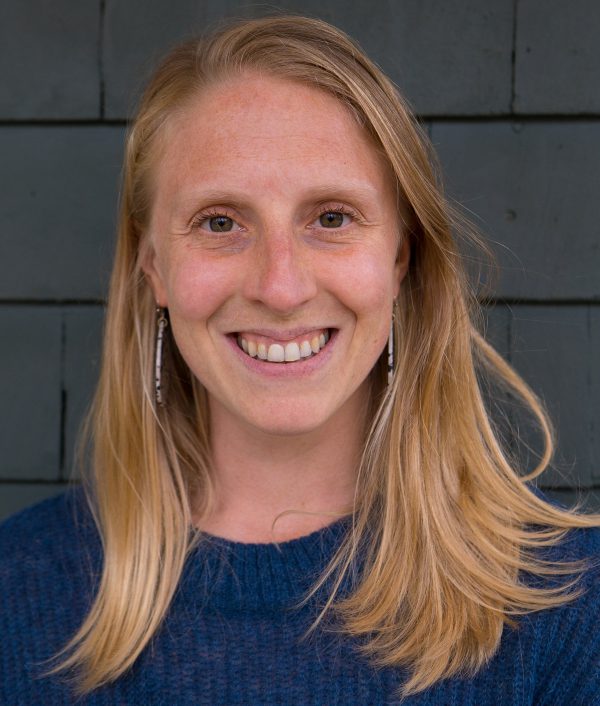 Combine students who are enthusiastic about social justice, growing global and domestic disparities in health exacerbated by a pandemic, and alumni who care about making a difference, and the result is a notable uptick in interest this year in Kalamazoo College's community and global health concentration.
Interest has grown from about 24 students in an average year to about 50 accepted to or requesting admittance, says Mary Jane Underwood Stryker Center for Civic Engagement Director Alison Geist, M.P.H., who also directs the community and global health program. The concentration, which emphasizes health equity, prepares students to identify, investigate and articulate global and community health issues to think critically, and collaborate with others to address some of today's most pressing challenges.
"In the last nine years or so we've gone through this tumultuous time in our country where there's much broader awareness about issues such as racial disparities, police violence and climate change and they're being recognized as threats," said Britta Seifert '12, who is teaching the maternal, child and adolescent health course within the concentration as an adjunct faculty member this term. "Social justice issues have been really visible and part of our national discussion. It's a way that students can say, 'I see these inequities in society, and I want to devote my career to addressing injustice.' Public health is a tangible and important way that people can do that."
Seifert was an anthropology and sociology major at K with a women's studies concentration before community and global health was available as a full concentration to students. However, in her sophomore year, she took a public health class taught by Geist. That class studied infant mortality rates and health disparities in Kalamazoo through a service-learning project. Seifert then conducted a senior individualized project on infant-mortality rates in Calhoun County, Michigan.
"That class was an entry point for a lot of K people to public health," Seifert said, while complimenting Geist's influence on both alumni and current students. "It's exciting for me to see that there's now this whole concentration at K, and students get to explore it more deeply. It's such a multi-disciplinary field that it's a really great fit for a liberal arts college. There are a lot of different angles you can take toward a career in public health."
After graduating from K, Seifert joined the Peace Corps, where she taught health education to high school students in Kyrgyzstan. In 2019, Seifert obtained a master's degree in public health from Boston University and began working for Mathematica, an organization that analyzes data to develop pathways to progress for public- and private-sector influencers.
Seifert's experience is benefiting students in her course, which addresses the social determinants of health, health equity and racial justice, while exploring topics in maternal, child and adolescent health. Seifert said the general field of maternal, child and adolescent health focuses on diverse health and social issues that affect parents, expectant parents, people of reproductive age and children. Such issues range from traditional topics such as breastfeeding and contraception to complex social issues such as violence, housing and immigration, and how they're affected by racism and inequality.
As the instructor, Seifert has called on several K alumni to serve as guest speakers in her class this term including Hannah Reischl '12, a senior business process consultant in strategy design and implementation for Kaiser Permanente; Mark Ebell '83, a professor at the University of Georgia; Allyson Howe '12, a youth programs senior specialist at the University of Colorado; Amy Houtrow '96, a professor and endowed chair for pediatric rehabilitation medicine in the Department of Physical Medicine and Rehabilitation at the University of Pittsburgh School of Medicine; and Ramya Dronamraju '16, a public health expert at Vital Voices Global Partnership.
"One of my goals with the class is to show students the different careers in public health and I'm trying to bring in people who do very different types of work in the field, both in terms of the issues that they work on, and the type of work they do so," Seifert said. "I have some clinicians, researchers, community organizers, program implementers, people who work in the government and people who work for nonprofits."
Most of the students in Seifert's class are juniors and seniors. She said a few of them would like to become physicians. One is a pre-law student. Others have been accepted to public health master's programs to start next year or say they would like to apply to such programs in the future. Some have yet to figure out what path they would like to pursue after college. Regardless, there is room for all of them to find careers they love in the field, making the concentration's growth even more satisfying.
"We need data science people in public health," Seifert said. "We need clinicians, social workers, lawyers, researchers, epidemiologists and biologists. It's such a diverse field in terms of career paths, and all the different types of people who work together on public health. It's a growing field with a lot of opportunity, and I think it's a great career path."