Art and Art History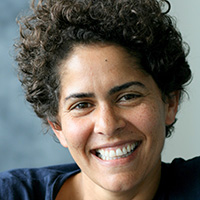 Julie Mehretu '92
Artist and MacArthur "Genius Grant" Recipient
My decision to become an artist came while a student at Kalamazoo College. A supporting and nurturing faculty, a curriculum that allowed flexibility for me to explore my creative passions, and the ability to think critically about it all—myself and my art, shaped who I am today.
---
Olivia Bouchard '15 shares her experience with her senior project as a Studio Art Major
. "If you are passionate about something, make a statement to the world about it. Follow your dreams!"
Program Information
Professors: Butler, Hahn, Koenig, Lindley, Rice
In an ever-increasingly visual world, art and art history cultivate essential critical looking skills that allow students to better navigate and respond to their communities, both local and global. Courses in the department take advantage of the interdisciplinary nature of the liberal arts experience, and we encourage students to interweave their personal and academic interests with artistic expression and research across visual cultures. Many classes have no prerequisites and are open to all students; while more advanced courses provide training for those interested in postgraduate study of studio art or art history. Senior projects can provide internships and other opportunities for experiential learning in the context of the arts: commercial art, arts management, museums and galleries, or professional studio practice. In every case, our goal is to enrich students' experience of their visual world and to develop the necessary analytical and communication skills in order to thrive upon graduation.
Our studio art courses provide instruction in drawing, painting, sculpture, ceramics, photography, printmaking, digital art, documentary video, and combined media. These courses are designed to help you explore creative visual modes of expression and learn both traditional and innovative media practices. The curriculum's directive is to familiarize students with contemporary issues in the visual arts, while developing practical and professional skills for future pursuits. To supplement coursework, studio classes participate in visiting artists' and critics' lectures, gallery and museum visits, studio visits, and a senior class trip to Chicago.
The art history curriculum offers courses across time periods and geographies, all of which provide a solid foundation in visual analysis, historical frameworks, and theoretical interpretations. The surveys provide a broad introduction; while intermediate and advanced courses more closely scrutinize specific cultures, ranging from ancient Greek art to contemporary global art. Art history majors are rigorously trained to conduct independent and collective research, developing strong problem-solving and critical reading and writing skills. Augmenting coursework, students visit numerous museums, work with visiting artists and art historians, and participate in the senior trip to Chicago.
The department offers a major or minor in Studio Art and a major or minor in Art History.