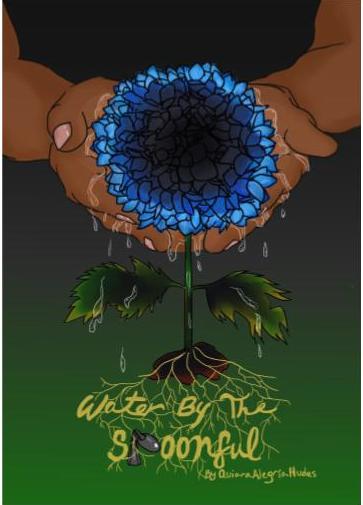 A deluge of trouble floods characters in the Pulitzer Prize-winning play Water by the Spoonful, coming this week to the Festival Playhouse at Kalamazoo College.
In the play, moderator "Haikumom," also known as Odessa Ortiz, leads a chat room for recovering drug addicts. From behind their screens, the participants don't expect to ever meet each other in person yet develop helpful bonds that assist them in recovery.
Off the internet, however, Odessa's real-life family is suffering through separate issues in a Puerto Rican neighborhood in North Philadelphia. Her biological son, Elliot, has returned from the Iraq War with post-traumatic stress disorder, and her sister is dying of cancer. Alonte Mitchell-Presley '21 plays Odessa and Trevor Loduem-Jackson '21 portrays Elliot.
In other roles, Rebecca Chan '22 plays "Orangutan;" Petra Rodriguez '21 takes the role of Yazmin Ortiz; Natalie Markech '21 portrays "Fountainhead;" and Arman Khan '24 plays Elliot's ghost. Visiting Assistant Professor of Theatre Arts Bianca Washington will serve as director. The play is the second in a trilogy of plays by Quiara Alegria Hudes. The first was Elliot, a Soldier's Fugue. The third was The Happiest Song Plays Last.
"I really think this a play that can appeal to everyone," said Meaghan Hartman '23, who is serving as the play's dramaturg. "There might be some parts that are more relatable for most of the audience, but it's such a powerful story about trauma in families. I just think it's super impactful, really for anyone."
As the dramaturg, Hartman researched the history behind the play, which is set in 2009. Although the Great Recession was of primary concern then, Hartman needed to know what troops experienced with PTSD during the Iraq War and learn about the implications of crack and opioid addiction. That exploration helped her create a lobby display at the Nelda K. Balch Playhouse that will help audiences better understand the characters in Water by the Spoonful. That lobby display is available in an online format for virtual audiences.
"This can be a very triggering show for some people, and the lobby display will help set the tone," Hartman said. "There are a lot of facts about how the themes apply to life here in Kalamazoo, especially with crack addiction and opioid overdoses in our own city. It's been interesting to figure out how to illustrate those feelings and experiences to the audience."
Playhouse staff have implemented strict Actors Equity Association COVID-19 compliance safety guidelines and protocols that will allow for live audiences in socially-distanced pods in the Nelda K. Balch Playhouse, 129 Thompson St. Live productions will be available at 7:30 p.m. Thursday-Saturday and at 2 p.m. Sunday. Reserve your tickets through the Playhouse's Ludus system box office. Adult tickets are $15, seniors are $10 and students are $5 with an ID. Kalamazoo College students, faculty and staff are admitted free with their College IDs. No tickets will be sold at the door because of the limited number of tickets available.
A virtual broadcast will be available with the Friday production. To watch for $5 from the comfort of your home, purchase your access online.
"We're just excited to start doing live theater again," Hartman said. "Professor Lanny Potts opens just about every single play meeting with how grateful we are, recognizing that there are actors, theatre technicians and directors who are unable to do it. We're pleased and thankful."