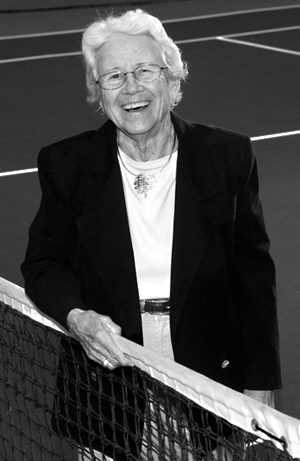 Ada Letitia ("Tish") Loveless, Ph.D., women's athletics pioneer and longtime Director of Women's Athletics at Kalamazoo College, died on Thursday, September 22, 2016, at her home. She was 91 years old.
Tish served as Director of Women's Athletics from 1953 until she retired in 1986. Prior to her arrival, there were no women's intercollegiate athletic teams at Kalamazoo College. During her tenure, she established women's varsity teams in tennis, field hockey, archery, swimming, basketball, volleyball, soccer, and cross country.  She is the most successful coach of women's teams in the history of the Michigan Intercollegiate Athletic Association, the oldest athletic conference in the country. Her teams won 28 league championships: 23 in tennis, four in archery, and one in field hockey. Her 1986 women's tennis squad finished third in the nation. In 1992, Kalamazoo College inducted Tish into its Athletic Hall of Fame and, in 2015, the College dedicated the "Tish Loveless Court" in the Anderson Athletic Center.
Tish believed in the benefits of competition for everyone, regardless of skill level, and she worked tirelessly to ensure all students had opportunities to compete. She added new sports and classes based on student requests, and not just her own skills.  On several occasions, Tish coached sports largely unfamiliar to her at the urging of passionate students. Over the years, she learned, and then taught, fencing, archery, modern dance, folk dance, social dance, and swimming.
"Tish's legacy includes the thousands of students whose lives she touched," said Marilyn Maurer, coach emerita of women's swimming and a longtime colleague and friend. "She opened their eyes to doors of possibility to which they hadn't realized they already possessed the key. Many of her students remained in close contact to the very end."
Tish earned a BS in physical education from the University of Illinois in 1948, an MS from UCLA in 1952, and a PhD in education from Michigan State in 1977.  In 1988, she was inducted into the National Association of Collegiate Directors of Athletics Hall of Fame.  She received the Weimar K. Hicks Award from the Kalamazoo College Alumni Association for service to the College in 2002.
Thanks to the loving care of friends and caregivers, Tish spent her last days at her Kalamazoo home that she had shared with Marilyn Hinkle, a lifelong good friend and member of Kalamazoo College class of 1948.  Marilyn died on January 25, 2007.
Tish is survived by many nieces and nephews and their children, as well as several generations of Kalamazoo students who always treated her like family.
A memorial service is being planned for Saturday, November 12, 2016, at 3:30 p.m. in Stetson Chapel followed by a reception in Anderson Athletic Center Lobby. In lieu of flowers, donations can be made to the Tish Loveless Women's Athletics Endowment or the Marilyn Hinkle Endowed Scholarship for Arts at Kalamazoo College.